| BEST UNIVERSITIES FOR BACHELORS IN NEW ZEALAND | ENTRY REQUIREMENTS FOR BACHELORS IN NEW ZEALAND |
| --- | --- |
| University of Auckland | 60% or 6.0 CGPA |
| Massey University | 60% or 6.0 CGPA |
| University of Waikato | 50% or 5.0 CGPA |
| Auckland University of Technology | 60% or 6.0 CGPA |
| Lincoln University | 60% or 6.0 CGPA |
| Victoria University of Wellington | 60% or 6.0 CGPA |
| Unitec Institute of Technology | 50% or 5.0 CGPA |
| Otago Polytechnic | 60% or 6.0 CGPA |
| Eastern Institute of Technology | 50% or 5.0 CGPA |
| Manukau Institute of Technology | 50% or 5.0 CGPA |
---
Show 14+ Admission Requirements

Entry Requirements for Bachelors (BSc) in New Zealand vary by university and are subject to change. Students seeking Bachelors in New Zealand must apply for admission through a different website and submit supporting papers such as resumes, SOPs, LORs, extracurricular transcripts, merit certificates, educational credentials, and identification documents. The Deadlines for Bachelors (BSc) in New Zealand differ for both domestic and foreign students and from university to university. Deadlines are strictly enforced by universities. International applicants for undergraduate programs in New Zealand should pay close attention to the New Zealand entrance requirement for Bachelors. GoNewZealand professionals are aware of them, so you can reach out to ensure that the required paperwork and applications are filed well before the deadline.

While learning in New Zealand, international students can work part-time jobs for up to 40 hours each week during breaks or semester breaks and 20 hours weekly during the semester. Studying in New Zealand doesn't allow international students to be employed as full-time workers for any company or as contractors unless they hold a post-study work permit. There are many different kinds of part-time jobs accessible in New Zealand, depending on a variety of aspects such as working hours, pay or a stipend, current demands and requirements, long-term goals, and more. A lower limit of 360 points from levels five through seven are needed as the Eligibility Criteria for Bachelors in New Zealand Universities. Some Bachelor's Degrees include additional courses and may necessitate a longer time of the study, especially in professional subjects like engineering, the health sciences, and law. For instance, 480 credits would typically be required to complete an eight-semester (four-year) degree.
A minimum of 72% should be achieved to apply for a bachelor's degree. The Study Bachelors in New Zealand requirements are to be achieved successfully, so the students should cross-check with the university to which they are applying. The General entry requirements for Bachelors in New Zealand must be met if the student intends to undertake graduate-level or undergraduate studies in a New Zealand university.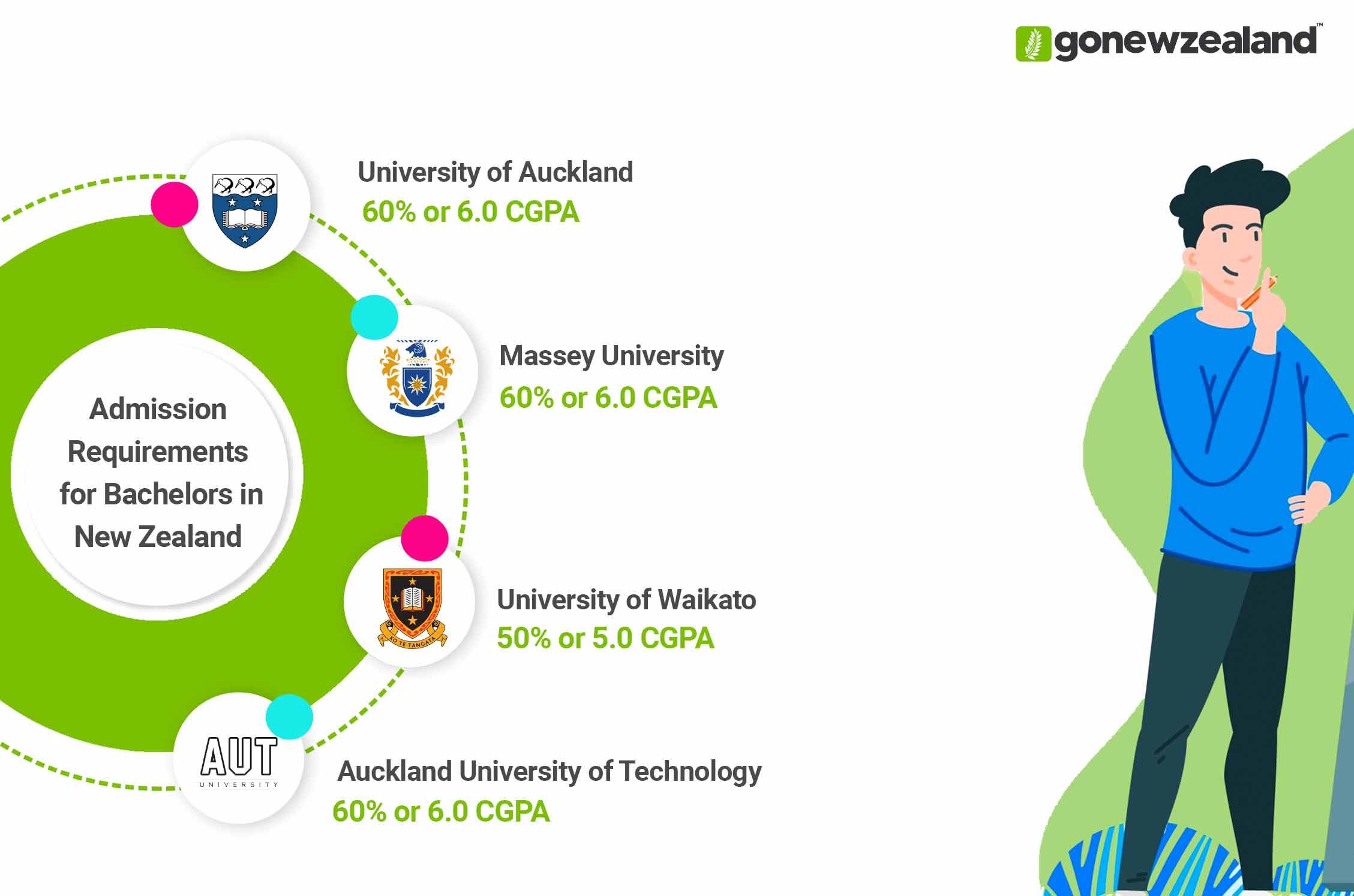 Students interested in applying for the position must have earned their 12th-grade diploma or an equivalent from a recognised board.
You must be fluent in English to apply for admission to New Zealand's UG programs.
Some colleges require applicants to have passed the IELTS or TOEFL exam, which measures an applicant's proficiency in the English language.
The Academic institutions of New Zealand require a high marks on these exams. The application process for admission to New Zealand's universities is rather straightforward. The institution takes several weeks to complete the application, which the students must submit together with the necessary paperwork. This section will direct you and give you the necessary information regarding the admissions criteria in this reputable nation.
An inquiry must be sent eight to ten months before the scheduled admission date.
The application form can be obtained in one of three methods: Download the program online. Email the application form to request it. Obtain registration forms from University staff members.
The application form must include all relevant qualification information and transcripts or other official documentation.
Use a good English translator if the papers are not in that language.
SOP, LOR & CV: Statement of purpose is important because it showcases the students' intention of studying the bachelors program and the previous academic as well as professional accomplishments. LOR is the recommendation certificate the senior authority offers, proving the student's credibility and that they are ideal for pursuing the course. CV entails all the personal, academic and professional details of the candidate serving as an identity document.

GRE/GMAT: GRE or GMAT is not an obligatory exam for studying bachelors in New Zealand; however, if you pass the exam, you need to procure a score of at least 550.

For detailed information on the eligibility requirements of your chosen course, don't hesitate to contact our highly experienced GoNewZealand consultants. With expertise in over 800+ unique data points and a strategic approach, they can guide you through the entire admission process, ensuring you meet all requirements.