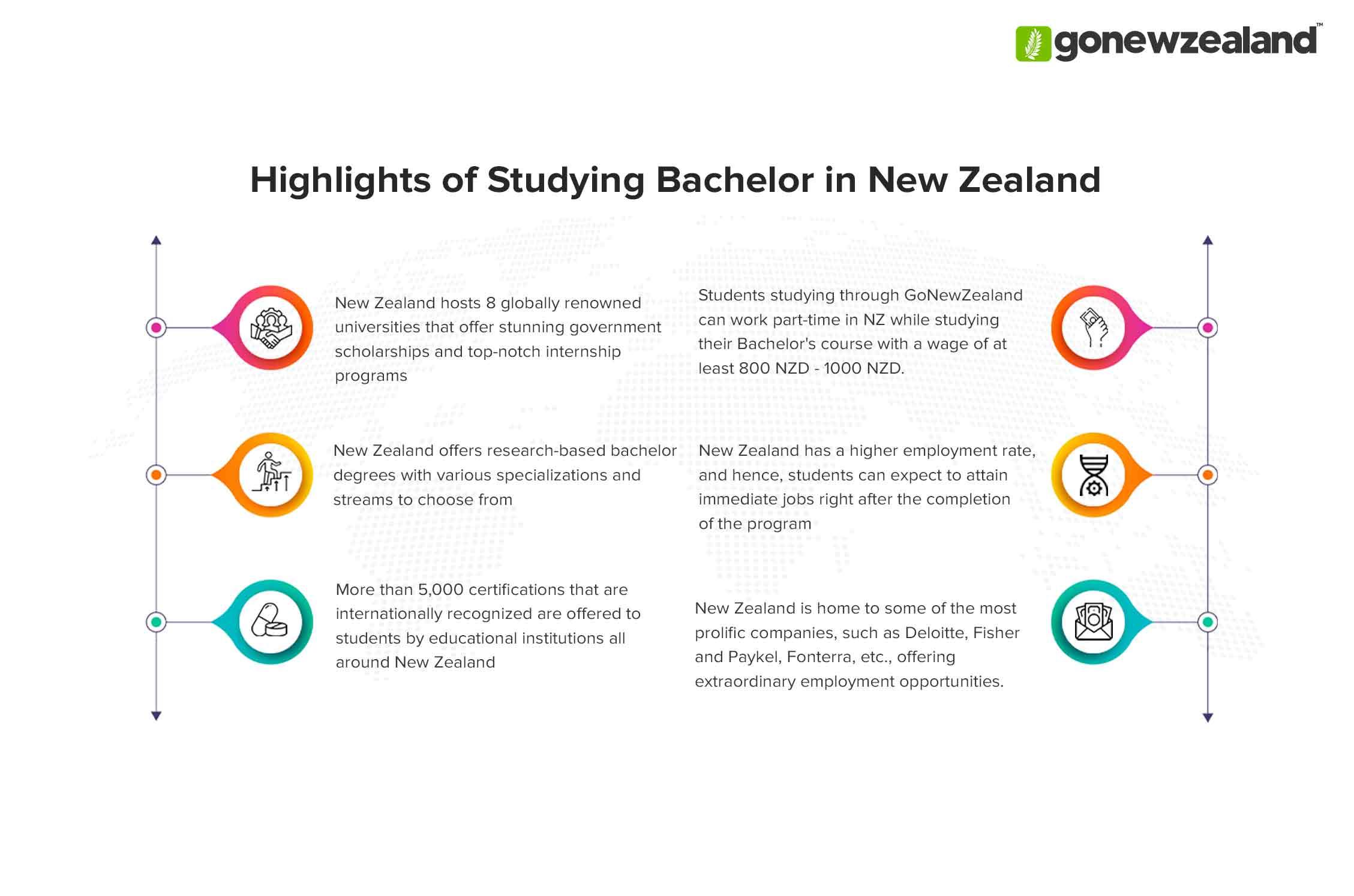 Bachelors in New Zealand
Planning to study Bachelor (BSc) in New Zealand for an astonishing career? Well, you have perhaps taken the right decision toward your career objectives that are going to reshape your future prospects completely. New Zealand is one of the most thriving education destinations for overseas students when it comes to attaining higher education and taking advantage of impeccable employment opportunities. Bachelor in New Zealand for Indian students not only opens up various periphery for employment but also helps in securing the best spots for future higher education or postgraduate courses. Harboring top-notch universities, colleges and premium-level faculty of education, students can expect immaculate studies and procure a higher level of understanding on any subject. New Zealand offers some of the greatest undergraduate programs in the world.
The degree will be respected as being on par with other undergraduate degrees from the UK and Australia. Your degree will be respected by higher education institutions as well as employers. Universities operate on the same calendar as most other educational institutions, with the semesters beginning in June and ending in November. You can obtain a variety of undergraduate degrees and certifications, each of which varies depending on the institution you attend. When it comes to continuing your education, these degrees and certifications will confer different benefits and come with significant distinctions. In New Zealand, more than 600 tertiary training institutions are spread out nationwide. Depending on the jobs you want to pursue, each institution offers a distinct kind of education. Bachelor in New Zealand for International Students can be completed in two to eighteen months and immediately place you in practical classes.
GoNewZealand's Extensive Footprint in India
Offices across India
250+ Experienced Consultants
Chennai, Coimbatore, Bangalore, Cochin, Hyderabad, Mumbai, Pune and many more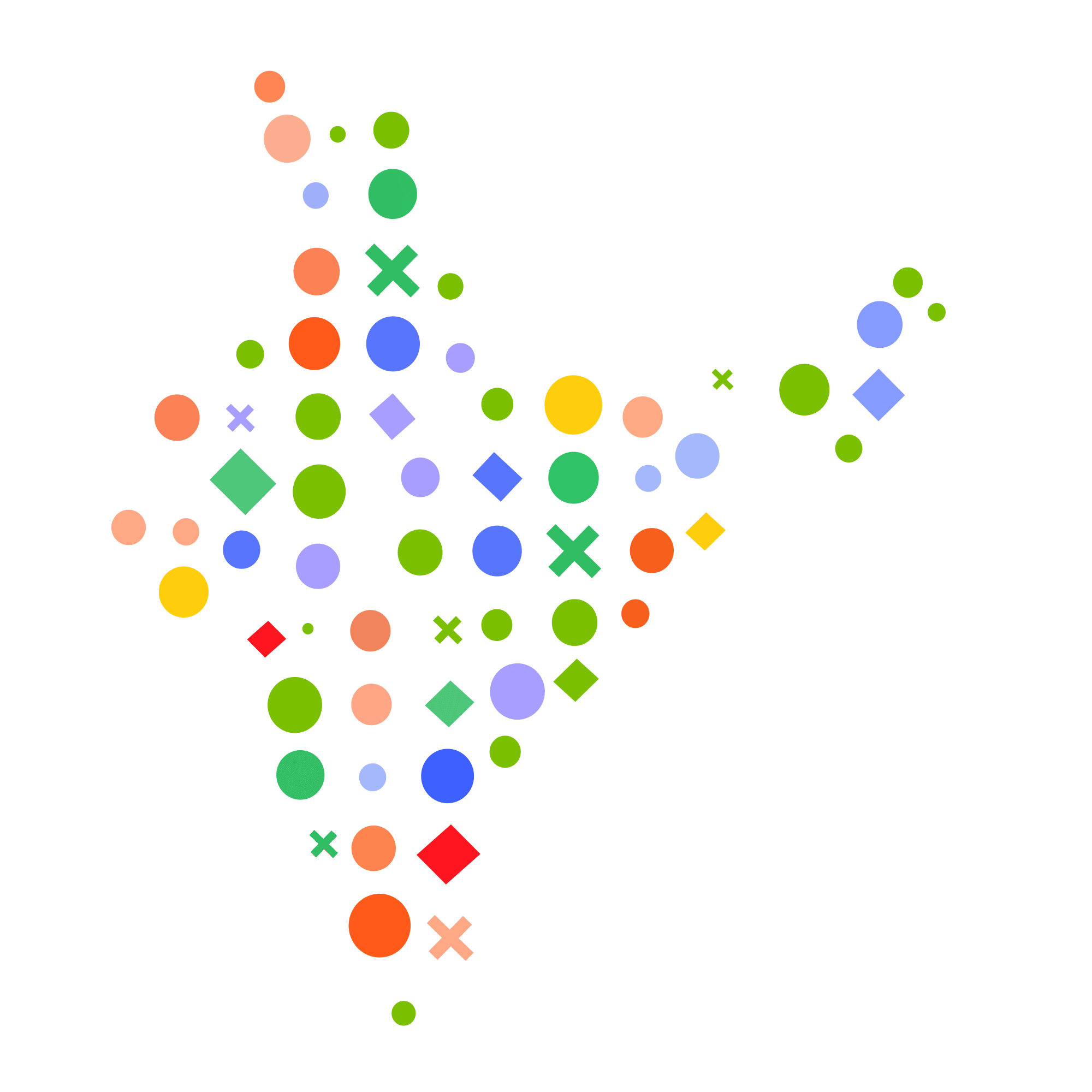 Workshops, apprenticeships, and other educational experiences like these can prepare you to enter the workforce immediately after finishing your Bachelor in New Zealand. These courses can be for civil engineering, plumbing, electrical work, secretarial work, and other technical vocations that often do not necessitate a bachelor's degree but require relevant qualifications that you will obtain in an educational setting like a training school. Each year, thousands of students from countries other than New Zealand anticipate going to university there to receive a top-notch education in a variety of fields. After all, New Zealand is renowned for its commitment to multiculturalism, tolerance of variety, and top-notch educational system. Universities, colleges, private institutions, and polytechnics are just a few of the higher education institutions available in New Zealand. In New Zealand, there are 8 universities, all of which provide top-notch education. These eight universities are ranked in the top 500 of the QS World University Ranking. The University of Auckland ranked highest and in 87th place, is followed by the University of Otago, which is placed 217th. The distinctive approach to education in New Zealand is a huge benefit of studying there. Many students acquire distinctive strengths and ideas while studying New Zealand Bachelor (BSc) in the nation because instructors encourage them to think critically and expand their horizons.
Get application fee waiver
by applying through us
I agree to GoNewzealand terms and privacy policy
or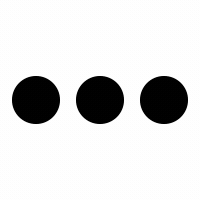 To know about Requirements
For more information on the various criteria for admission requirements in the top universities and colleges in New Zealand, follow the below-mentioned detailed information. We have jotted down the most important points for your perusal, and you can also get in touch with one of our seasoned educational experts from GoNewZealand to learn precise details.
To know about Costing
For further details on the various costs of completing a bachelor's degree in New Zealand at the top universities, including tuition, living expenses, travel expenses, and other expenses, please check the information provided in the sections below. If you need clarification or the greatest expert guidance, you can always get in touch with GoNewZealand's educational consultants.
Salary After Bachelors in New Zealand
Jobs for foreign students have increased significantly in New Zealand during the past few years. High-paying positions after graduation in the New Zealand economy, where banking, insurance, as well as business services are all important growth drivers. Trending Jobs in the information technology sector are available for working in New Zealand after Bachelors (BSc). Graduates from the fields of metals, chemicals, aircraft, shipbuilding, automobiles, food processing, apparel and textiles design, the arts, and electrical and communications equipment are also in high demand. Depending on a variety of variables, including your degree, course of choice, and skills, the Average salary in New Zealand after Bachelors (BSc) is NZD 171,000 per year. In New Zealand, job opportunities following a bachelor's degree are limitless, and graduates can pursue careers in any of their selected professions. After completing their undergraduate degree in New Zealand, students should be able to earn a respectable Salary Range for Bachelors in New Zealand.

It is realistic to assume that students who study for a bachelor's degree in New Zealand will earn a high wage because the universities there promote recognised, personal, and educational progress. The Starting Salary for Bachelors in New Zealand may vary from NZD 48,000 and can go up to NZD 125,000 depending on the job profile. The Expected Salary after studying Bachelors in New Zealand is at least NZD 35,000, and the Bachelors is the most employable degree in New Zealand that can fetch immaculate jobs in leading companies. International students working part-time in New Zealand typically make NZD 18.90 per hour as the Fresher's salary after Bachelors in New Zealand. While learning in New Zealand, students are required to abide by the country's laws and rules. For more information on part-time employment in New Zealand for students, get in touch with one of our expert counsellors.
FAQ:
---
How long does it typically take for a student visa to be processed in New Zealand?

Visa applications typically take three to four months to process. However, this time frame may change if key documents are lacking or if the visa office requires further details about the candidate or his or her application.
---
How old must you be to enrol in school in New Zealand?

There is no maximum age to pursue education in New Zealand.
---
Is health insurance crucial for international students?

Yes, foreign students are required to obtain health insurance.
---
Is New Zealand the best country to pursue a Bachelor?

New Zealand, which has a remarkable reputation for offering a top-notch education to overseas students, is home to a number of the best bachelor's degree universities in the world. These colleges comprise Auckland university, Massey University, Canterbury, Wellington University and many more.
---
What is a bachelor's degree in New Zealand worth?

New Zealand's bachelor's degree programs are typically completed in three years, as opposed to the four-year duration commonly found in countries like the United States, mainly due to the streamlined curriculum that focuses on major-specific courses rather than extensive general education classes.
---
What qualifications are needed to obtain a bachelor's degree in New Zealand?

The minimum academic requirement for most undergraduate programs in the nation is considered credentialed equivalent to NCEA Level 3 or New Zealand year 13. An IELTS band score of at least 5.5 for undergraduate studies in New Zealand is necessary. In New Zealand, MBA courses require GME or GMAT scores for admission.
---
In New Zealand, which degrees are the most challenging?

The ideal programs to pursue in New Zealand are Engineering, animation, medicine, business studies, agriculture, and other fields.
---
How long can I remain in New Zealand after studying Bachelors?

If you have an approved qualification set by the government of New Zealand, you can be qualified for a post-study work visa for three years after finishing your studies.
---
New Zealand offers PR, right?

You may apply for a PR visa if you have held a resident visa for over two years. With this visa, you can enter and exit New Zealand at your will.
---
Are wages in New Zealand high?

In New Zealand, earnings vary widely by industry, and we also track regional differences. Generally, salaries are higher in areas with more significant housing and living expenses. As of mid-2021, the average hourly wage in New Zealand was just under NZD 27 (or, using a 40-hour workweek, NZD 56,160 annually).
---