The On-Campus Accommodation Cost for Bachelors in New Zealand estimations is the next significant outlay. The region you want to live in, and the institution will both have an impact on the Cost of living in New Zealand to study Bachelors (BSc). The Estimated cost of living in New Zealand while studying Bachelors is NZD 15,000 (per year). Several housing options are available for students pursuing their bachelor's degree in New Zealand, ranging from university dorms to private residences. To save and show sufficient cash, international students motivated to pursue a degree in New Zealand must be aware of the country's living expenses.
The Living cost for Indian students in New Zealand per month to study Bachelors varies depending on the location of your university, the kind of housing you select, and, obviously, your lifestyle. In New Zealand, the Living expenses in New Zealand for Non-EU Bachelors students range from NZD 850 to NZD 1,400 a month. The Cost of living in New Zealand for a single person studying Bachelors will often be around NZD 1,250 and NZD 3,000 in expensive cities. Contact our knowledgeable advisers for more specific information, and they will work with you to find a program in New Zealand that fits your budget. Auckland and Wellington are the most costly cities to live in NZ regarding housing, dining out, and entertainment. These three cities cost around 50% more than rural areas while offering the broadest range of professional opportunities.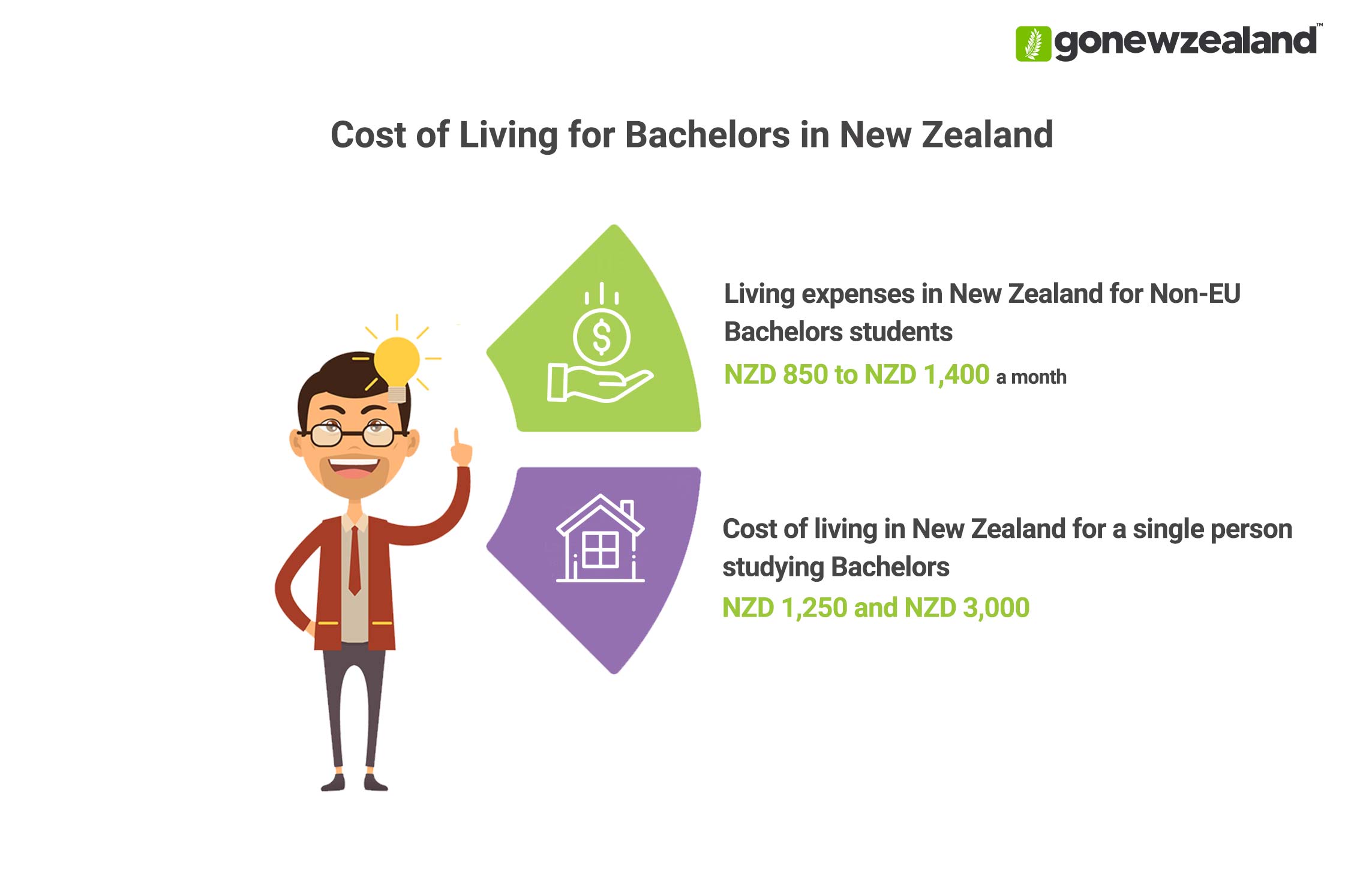 With the assistance of GoNewZealand, discover the necessary living expenses during your bachelor studies in NewZealand. We offer support in calculating your expenses while studying, and can also assist you in securing an education loan with a low interest rate to facilitate your academic journey. Get in touch with us now for comprehensive financial guidance and support!