| BEST UNIVERSITIES FOR BACHELORS IN NEW ZEALAND | BACHELORS COURSES IN NEW ZEALAND | DURATION | TUITION FEES |
| --- | --- | --- | --- |
| University of Auckland | BSc in Engineering Project Management | 36 months | NZD 35,000 |
| Massey University | Bachelors of Business Studies | 36 months | NZD 30,700 |
| University of Waikato | Bachelors of Artificial Intelligence | 36 months | NZD 34,085 |
| Auckland University of Technology | Bachelors of Actuarial Science | 36 months | NZD 37,051 |
| Lincoln University | Bachelors of Education | 36 months | NZD 22,000 |
| Victoria University of Wellington | Bachelors of Intercultural Communication & Applied Translation | 36 months | NZD 14,104 |
| Unitec Institute of Technology | Bachelors of Applied Business | 36 months | NZD 10,000 - NZD 40,000 |
| Otago Polytechnic | Bachelors of Design | 36 months | $NZD 22,000 |
| Eastern Institute of Technology | Bachelors of Information Technology | 36 months | NZD 47,403 |
| Manukau Institute of Technology | Bachelors of Applied Technologies | 36 months | NZD 30,703 |
---
Show 14+ Courses

Before beginning their Bachelor's (BSc) courses in New Zealand or other subsequent degree programs, degree-seeking students can take advantage of top Bachelors courses in New Zealand to advance their education. Your choice regarding the course should be the main consideration while selecting your undergraduate Bachelors programs in New Zealand. The best course for you is one that reflects both your areas of interest and your ideal income. It would be preferable if you completed that particular course for your Bachelors courses in New Zealand. Each year, more than 450,000 foreign students study in New Zealand. The innovative and challenging environments that New Zealand Schooling for overseas students provides encourage students to be at the top of their game.

New Zealand Bachelors (BSc) standards for academic study are highly recognised, and the country consistently ranks highly in worldwide university rankings. Learning in New Zealand has several benefits, including good course content, outstanding teaching strategies, and extensive practical experience. As the universities maintain strong standards, education in New Zealand is becoming a more and more popular choice for overseas students. Research excellence at New Zealand universities is well-known on a global scale. Give us a call if your motivations for choosing to study in New Zealand are clear, and we'll work with you to meet your objectives.
Primary education, secondary school, advanced education, and postsecondary learning are the four main New Zealand educational system divisions. In the Bachelors Intakes in New Zealand, students are taught English, maths, science, humanities, as well as any modern language at the school level. Each institution has a list of elective courses to choose from in addition to these disciplines. A select few topics that fascinate students may be preferred. Students in New Zealand's secondary schools take the General Entrance Exam. To gauge the pupils' progress and evaluate them, there are standard evaluation sessions. The outcomes of the Common Entrance Test in certain institutions may serve as preparation for the transition through junior to senior high school.

In New Zealand, higher education begins with a two-year course that ends with A (Advanced) level exams. Students typically apply their three or four areas of specialization to the university degree program they choose to pursue, excluding the eight universities. The tertiary sector in New Zealand consists of 12 Industry Training Organizations (ITOs), 16 government-financed polytechnics, institutes of technology, 3 Wananga, over 240 privately sponsored training facilities, and a few smaller organizations. Contact our consultants for any questions or Free Bachelors Courses in New Zealand guidance.
Studying in New Zealand's programs under these degrees includes a variety of approaches that draw more than 600,000 overseas students every year to a wide range of courses from PhDs to academic courses. Given that the level of education is upheld across the entire range of courses provided, any course you are interested in taking can be directed to Research in New Zealand. Among the best subjects to pursue in New Zealand are finance, computer programming, law, maths and science, technology, medicine and dentistry, and architecture, among others, based on the likelihood of employment. Studying in New Zealand for NZD 20,500 in tuition for a bachelor's degree is quite inexpensive compared to other countries. In New Zealand, BS also offers shorter programs with one to two years completion times.

Top-ranked universities in New Zealand for bachelor's degrees produce well-trained students from reputable colleges who continue to achieve in their industries. The best bachelor's degree program in New Zealand for educational flexibility, individualised study skills, and extracurricular involvement. BS in New Zealand helps its students succeed academically and professionally by sharpening its competitive edge and increasing its marketability. Overseas students who have graduated from NZ with a legitimate degree are eligible to apply for a post-study working visa there. It is a visa that allows foreign students to be employed by any organization in New Zealand for periods ranging in duration. It said that with the newly Graduated Route visa, international students could work and reside in New Zealand for at least three years after graduating.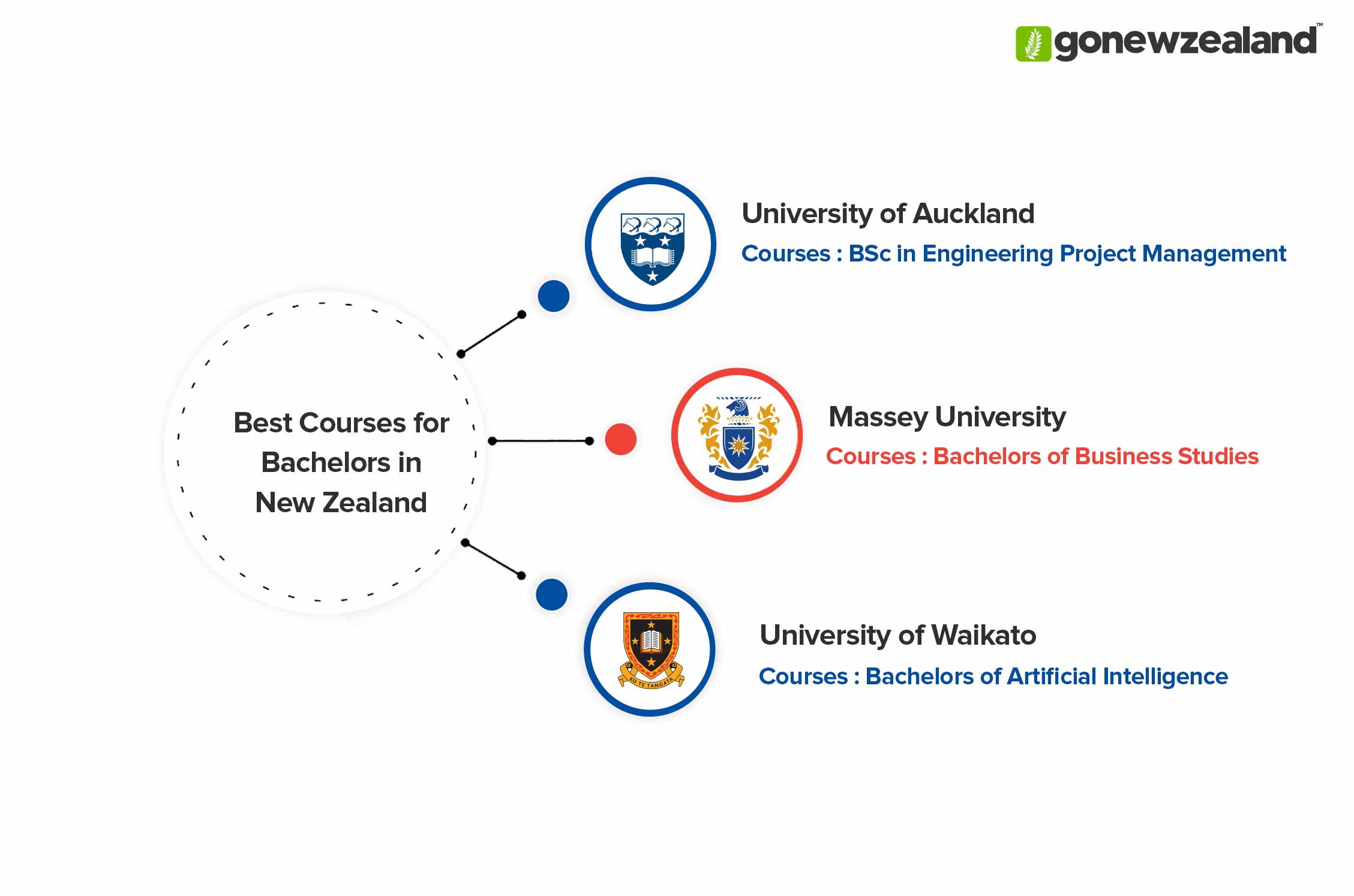 Regardless of your field of study, the most recent laws and requirements for applying for a post-study work visa in New Zealand apply to both bachelor's and master's degrees. You do not need to have a job when you apply since international students who wish to obtain a Postgraduate Work Pass in New Zealand are not required to be endorsed by an employer. Working in New Zealand after finishing your studies is more advantageous than in the past, so students who want to study there and have questions about PSW or need advice can contact our knowledgeable advisers. In New Zealand, you can finish a bachelor's degree program in three years instead of four years in nations like the United States. This is because there are seldom any general education classes.

Every class you take is focused on your course of study, even if you must take those which are not explicitly linked to your major (for example, nursing students may be required to attend an algebra class). These degrees will provide a well-rounded education that will help you get a job or prepare you for further study. Some of the most popular Bachelors courses in New Zealand are namely Bachelor of Arts, Bachelors of Information Sciences, Bachelors of Business, Bachelor of Agribusiness, Bachelor of Business Analysis, Bachelor of Aviation Management etc. Some of the leading companies in New Zealand that offer job opportunities after Bachelors in New Zealand are Deloitte, Fonterra, Fisher and Paykel, Kiwibank, AFFCO Holdings and many more that is certainly one of the primary reasons to apply for Bachelors course in New Zealand.

Contact our GoNewZealand counselors for personalized support in choosing the suitable bachelors course in New Zealand that aligns with your passion. We'll help you explore and discover the ideal program that suits your niche, ensuring a rewarding academic journey.