| JOB ROLES AFTER BACHELORS IN NEW ZEALAND | EXPECTED SALARY AFTER BACHELORS IN NEW ZEALAND |
| --- | --- |
| Environmental Scientist | NZD 45k - NZD 95k |
| Ecologist | NZD 35k - NZD 65k |
| Project Manager, (Unspecified Type / General) | NZD 49k - NZD 120k |
| Operations Manager | NZD 58k - NZD 140k |
| Data Scientist | NZD 55k - NZD 105k |
| Research Technician | NZD 35k - NZD 72k |
| Chief Executive Officer (CEO) | NZD 60k - NZD 229k |
| Accounting & Advisory | NZD 49,090 |
| Government & Public Service | NZD 49,821 |
| Banking & Financial Services | NZD 56,294 |
| Education & Training | NZD 56,411 |
Orientation to a body of information in a designated major subject (or disciplines, in the event of a double major or a double degree) in addition to problem-solving and related fundamental strategies of self-directed learning and work are provided to individuals by a scope of Bachelor in New Zealand.
A bachelor's degree necessitates a minimum of one parallel degree program in which the subject matter is gradually developed so that it may serve as the foundation for further study at the graduate level and professional activity. A Bachelors (BSc) scope in New Zealand builds on prior coursework, employment, or experience. It is available to people who meet the entrance requirements, typically at the third level on the NZQF. International students spend about NZD 4,000 and NZD 10,500 for one academic year of study at a university in New Zealand. Even though this isn't precisely inexpensive, it's still far less expensive than attending a university in America, Britain, Australia, or Canada. New Zealand's educational system is built on the productive UK model. With such a strong basis, it is understandable why local institutions are regarded and valued internationally; most of them are consistently included in the leading world university rankings. At New Zealand universities, learning is not typically done via memorization of course material. Additionally, the combination of the faculty, fellow students, and various extracurricular activities produces an exceptional and unforgettable learning environment.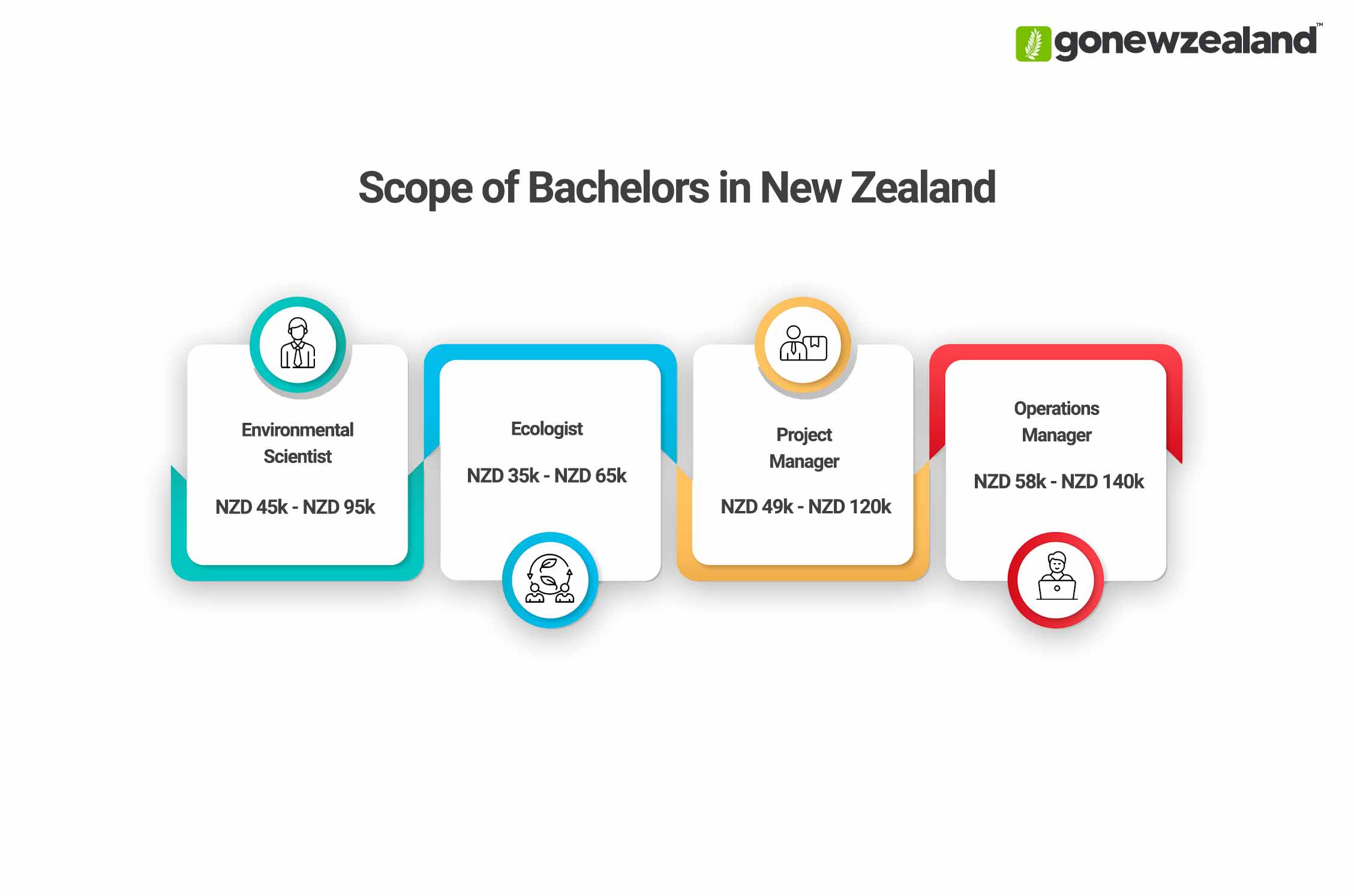 In addition to this, many colleges provide a wealth of support services, particularly for overseas students. In order to make your years spent studying as stress-free and enjoyable as possible, they can provide pastoral care and courses on topics like stress management, awareness, meditation practices, how to beat procrastination, how to establish a study-life harmony, and more. In New Zealand, bachelors pursue tertiary education. In New Zealand, bachelor's degrees are recognised by a variety of titles, including a bachelor of science, arts, education, and engineering. Numerous popular courses and programs, such as electrical and plumbing, secretarial work, civil engineering, etc., are offered by more than 600 institutions in New Zealand. On a New Zealand bachelor's degree, your course is covered in every class. In New Zealand, bachelor's degrees typically need two years to finish. The time frame can occasionally go up to four years. In New Zealand, BS also offers shorter programs that can be completed in one to two years. In New Zealand, bachelor's degrees assist people in adjusting to the demands of the workplace if they begin working right after finishing secondary school. In New Zealand, people can choose to finish their BS or even continue on for a third year to earn their Bachelor's honours degree.

A BS degree in New Zealand provides access to the most extraordinary career prospects after Bachelors (BSc) in New Zealand. Students in New Zealand who pursue bachelor's degrees gain new knowledge and experiences. The scope of bachelor's degrees in New Zealand is increased by completing advanced training and gaining in-depth subject knowledge. The amount of graduates who start their careers in dominant positions in some of the biggest organizations worldwide is considerable in comparison. Therefore, the scope of pursuing a BS in New Zealand is fairly high. The highest-paying fields for job opportunities in New Zealand after Bachelor's are electrical engineering and computer science, interaction design, public accounting, operations research, applied economics and management, business computing (BC), electrical energy engineering, information & computer science, and aeronautics & astronaut. In New Zealand, job opportunities following a bachelor's degree are limitless, and graduates can pursue careers in their selected professions. Students earn a respectable salary after completing their BS degree in New Zealand.
It is realistic to assume that students who study for a bachelor's degree in New Zealand will earn a high wage because the universities there promote recognised, personal, and educational progress. In New Zealand, you can pursue education at all the customary levels, including undergraduate (bachelor's), graduate (master's), and doctoral (PhD). There are ways to get particular credentials, such as Graduate Diplomas as well as Honours. These studies typically last one year. You will need to submit separate applications to each university because New Zealand does not provide a centralised application process for overseas students. You can find out more details about certain requirements from the institution you decide to apply to. Generally speaking, you will be requested for your academic transcript, confirmation that you have travel and health insurance for the period of your studies, and evidence that you can grasp the language of education to a satisfactory level.

In New Zealand, you can finish a bachelor's degree program in three years instead of four years in nations like the United States. This is due to the fact that there are seldom any general education classes. Every class you take is focused on your course of study, even if you must take courses that are not explicitly linked to your major (for example, nursing students may be required to attend an algebra class). You are not wasting any time with courses not specifically relevant to your chosen major. These degrees will provide a well-rounded education that will help you get a job or prepare you for further study.

Gain valuable insights and clarity on pursuing a bachelor's degree in New Zealand through a one-on-one consultation with our experts. Our committed consultants will guide you through the possibilities and advantages, enabling you to make an informed decision with confidence. Schedule a consultation now to embark on your academic journey with certainty and support.