| BEST UNIVERSITIES FOR MASTERS IN NEW ZEALAND | ENTRY REQUIREMENTS FOR MASTERS IN NEW ZEALAND |
| --- | --- |
| University of Auckland | 70% or 7.0 CGPA |
| Massey University | 70% or 7.0 CGPA |
| University of Waikato | 70% or 7.0 CGPA |
| Auckland University of Technology | 60% or 6.0 CGPA |
| Lincoln University | 60% or 6.0 CGPA |
| Victoria University of Wellington | 60% or 6.0 CGPA |
| Unitec Institute of Technology | 60% or 6.0 CGPA |
| Otago Polytechnic | 60% or 6.0 CGPA |
| Eastern Institute of Technology | 55% or 5.5 CGPA |
| Manukau Institute of Technology | 60% or 6.0 CGPA |
---
Show 14+ Universities

The Entry Requirements for Masters (MSc) in New Zealand are pretty convenient and can be easily met with the guidance of GoNewZealand consultants. According to a few straightforward instructions, students can quickly get admission to some of the most prestigious New Zealand academic institutions. New Zealand has various universities which specialize in Masters degree programs, with rigorous yet manageable eligibility criteria for Masters in New Zealand Universities when compared to other countries where students can study. The educated specialists and consultants at GoNewZealand end up making the admissions process straightforward for you, so enrolling won't be a problem for you. Students are obligated to achieve the exact New Zealand entrance requirement for Masters that each institution and private college has before enrolling in that particular institution.
Students who want to enrol in Masters degree programs at New Zealand universities must have a graduation degree in a field that is relevant to their Masters degree and an overall average of at least 80-85% in subjects like science, the arts, commerce, finance, business, engineering, or other related fields. Some private universities may also decrease the score aggregate needed to 75% or 65%, depending on the students. Still, any reputable public university always demands something within the upper range of 80%. For admission to the best universities, candidates should have no more than five-course arrears; nevertheless, certain institutions may reduce this rule to a count of 10 to 12. The last three to five years of experience working in management-related fields is one of the most important requirements for pursuing Masters in New Zealand at numerous universities. Due to their prior job experience, students are more equipped to handle the competitive and peer-centric environment of New Zealand Masters programs. International students are admitted to universities mostly in February and July. The most popular month for international students to enrol is July. By accepting applications online, New Zealand's universities have simplified the application procedure.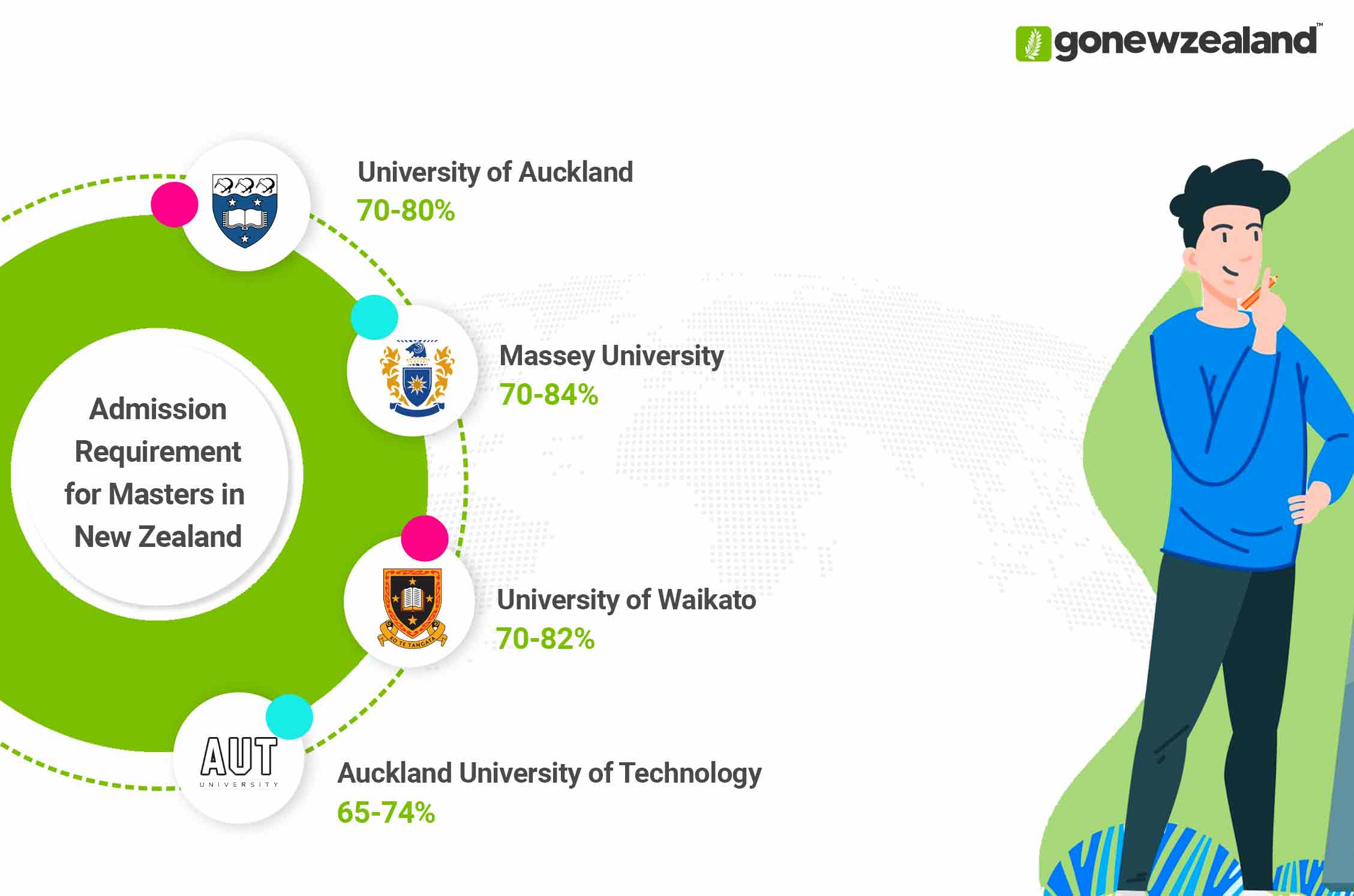 The Deadlines for Masters (MSc) in New Zealand may occasionally change and vary depending on the policies established by specific universities and colleges; nevertheless, individuals can confirm the faculty website for the most up-to-date information or speak with one of our knowledgeable counsellors for assistance in better understanding the Study Masters in New Zealand requirements. Other pertinent General entry requirements for Masters in New Zealand, aside from the admissions and eligibility standards for the universities stated above, include:

One of the most significant documents is the Statement of Purpose (SOP), which describes the student's intended motivation for pursuing a Masters program and provides an overview of their prior academic and professional accomplishments. A letter of recommendation, or LOR, is written by a senior official to endorse a student and attest to their reliability. The student's resume is the final document that includes all of their detailed personal, professional, and academic information.

Some institutions may require a GMAT score even though all do not require it of them. The score in the situation shouldn't be lower than 550.

At GoNewZealand, we guarantee up-to-date admissions process information and assistance to propel you in the right direction. Reach out to us for a seamless journey ahead.