| BEST UNIVERSITIES FOR MASTERS IN NEW ZEALAND | MASTERS COURSES IN NEW ZEALAND | DURATION | TUITION FEES |
| --- | --- | --- | --- |
| University of Auckland | MSc in Engineering Project Management | 12 months | $NZ48,000 |
| Massey University | Masters of Business Studies | 18 months | NZ$54,700 |
| University of Waikato | Master of Artificial Intelligence | 12-24 months | $NZ15,474 |
| Auckland University of Technology | Master of Actuarial Science | 12-24 months | $NZ15,260 |
| Lincoln University | Master of Education | 12-24 months | $NZ13,478 |
| Victoria University of Wellington | Master of Intercultural Communication & Applied Translation | 12-36 months | $NZ13,478 |
| Unitec Institute of Technology | Master of Applied Business | 18 months | $NZ23,350 |
| Otago Polytechnic | Master of Design | 12 months | $NZ25,338 |
| Eastern Institute of Technology | Master of Information Technology | 18 months | $NZ21,900 |
| Manukau Institute of Technology | Master of Applied Technologies | 12 months | $NZ21,000 |
---
Show 14+ Courses

New Zealand is a popular choice for international students looking to pursue higher education. There are a lot of universities with good facilities and an international reputation. Many students dream of pursuing Masters (MSc) courses in New Zealand. This is a fantastic nation and a good location for education. The annual cost for sciences and engineering students may be up to NZD 12,000, while the cost for sociology and art students may start at NZD 9,680. As one of the safest nations in the world, New Zealand offers Masters programs in New Zealand that students studying abroad might want to consider. It is a lovely country where students from all backgrounds can receive an excellent education with a strong curriculum and research-oriented classes on the Masters courses in New Zealand. In New Zealand, the majority of master's programs take at least two years to complete. However, some recent Masters postgraduate courses in New Zealand can be finished in a year, while the majority take two years to complete.
Direct contact with employers is another option that people have, and it's typically the best course of action. The following in-demand positions have arisen in New Zealand due to the skills gap. International students have access to an abundance of employment opportunities in New Zealand. The New Zealand Masters (MSc) courses entail a mix of coursework, including attending lectures and classes, finishing assignments, and conducting independent research. Others may be more research-driven, while others may be more coursework-focused. Studying independently without being restricted to scheduled lectures and classes is possible while studying for the Masters Intakes in New Zealand. Students collaborate with a thesis advisor to deliver a unique piece of research. You might have temporary supervisors or staff members to go over your alternatives with and help you come up with a topic before your supervisor is officially assigned. Additionally, you will be assigned an administrative supervisor who will be the primary point of contact for all documents related to your candidacy.

In New Zealand, master's degrees are postgraduate degrees that are modelled after the globally renowned British as well as Irish systems. They can serve as a foundation for sophisticated postgraduate academic research at the PhD level and often follow a period of undergraduate study leading to a Bachelor's degree. In New Zealand, postgraduate programs can be created to meet a range of professional objectives. You can use postgraduate training and studies to acquire or expand professional skills in addition to just choosing a Masters in a field of study related to your Bachelor's degree. This can be especially helpful if you want to specialize in a sector where New Zealand excels, including physiotherapy, social work, education, or sports science.
A comparable undergraduate program serves as the foundation for traditional Masters programs, which are academic courses. They frequently grant well-known degrees like the Master of Arts (MA) or Master of Science (MSc). Through these classes, you can deepen your existing topic knowledge and benefit from the specialised academic information available at institutions in New Zealand. Change of course Masters degrees is made to assist you in changing academic or professional paths and becoming knowledgeable in a subject you haven't previously studied. These classes can help you change occupations or go from an educational to a professional emphasis. Graduate entrance professional qualifications allow applicants to qualify for professional jobs like teaching or social work or to obtain enhanced occupational skills at the master's level.

You can utilise these programs to pursue regulated professions (like teaching), but you should make sure that your credentials are acknowledged and recognized in the nation where you ultimately want to work. Unlike graduate-entry courses, professional development qualifications are geared toward applicants with relevant work experience. They might offer further free Masters Courses in New Zealand training and skills to improve or change an existing job path. These courses can be used to obtain extensive postgraduate studies in your area of expertise. You might be a marketing professional looking to focus on digital communications or a teacher hoping to improve your school management abilities. Universities in New Zealand provide both taught courses and Masters degrees based on research. Most of them will be academic courses where you will write a lengthy autonomous dissertation while supervised by a qualified professional.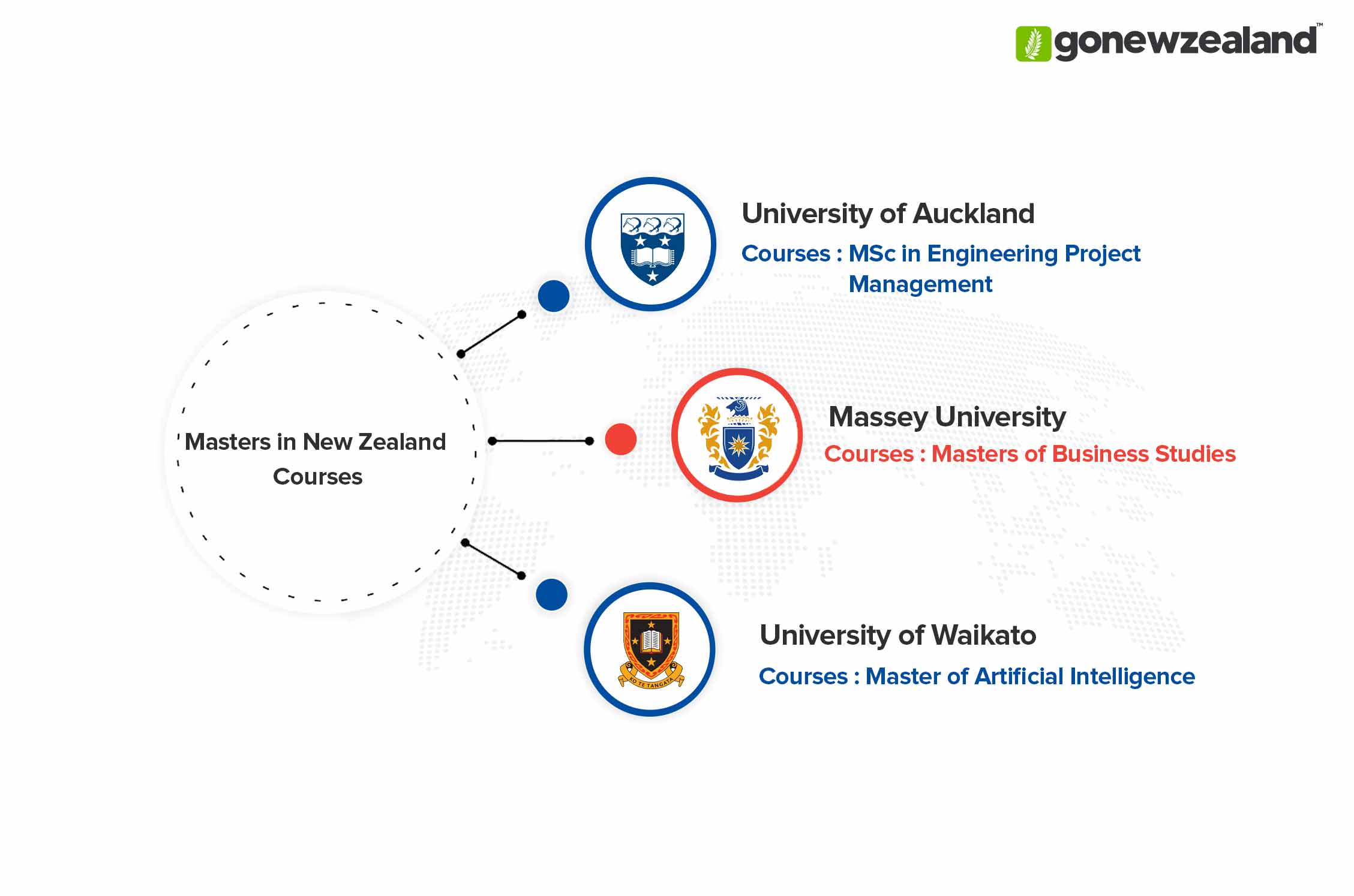 The prospective applicant must hold a highly regarded graduate degree in a closely connected discipline, especially for master's degrees in STEM, like MSc in Biotech, MSc in Mathematics, Masters in Zoology, and MSc in Electronics. There are many Masters in New Zealand courses taught in the universities by top-notch faculty through extensive theoretical, practical as well as independent research sessions. Masters by research entail deepening your understanding of a specific subject through a lengthy study project. On the other hand, learning from taught masters will help you develop your professional talents. It frequently entails an internship and networking with business professionals so that you may start your career off on the right foot once you graduate. Programs are provided in various subjects to help students pick the major that best matches them and their objectives. There are two semesters during the academic year, with the first one beginning in either February or July. Employers will interact with you, allowing you to learn more about the local business environment.

Many business schools are committed to giving you the resources you need to advance as a learner, leader, innovator, and global citizen. You may believe that when you apply for Masters course in New Zealand, you'll learn skills that will help you develop your career and positively impact society. You will acquire these talents through your studies and participation in many extracurricular activities. Your studies will help you become a better leader, team player, and communicator while also enhancing your critical and analytical thinking abilities. Due to its low unemployment rate of about 4%, virtually every one of New Zealand's students has various employment options. The New Zealand government has published a list of "Essential Skills in Demand" (ESID) on the professions and skills that are in high demand. You will be able to acquire valuable skills through this, which will help you land better jobs in the future. Following the completion of a Masters, a few of the top businesses that provide work in New Zealand include Deloitte, Datacom, ANZ Banking, Kiwibank, Fonterra, AFFCO Holdings, Fisher & Paykel, and many more.

GoNewZealand experts can assist you in choosing the right course to pursue Masters in New Zealand. Our counselors will guide you in the right direction and will be available to help you at any time during the process.