| JOB ROLES AFTER MASTERS IN NEW ZEALAND | EXPECTED SALARY AFTER MASTERS IN NEW ZEALAND |
| --- | --- |
| Environmental Scientist | NZD 53k - NZD 97k |
| Ecologist | NZD 45k - NZD 79k |
| Project Manager, (Unspecified Type / General) | NZD 72k - NZD 137k |
| Operations Manager | NZD 58k - NZD 140k |
| Data Scientist | NZD 56k - NZD 117k |
| Research Technician | NZD 47k - NZD 76k |
| Chief Executive Officer (CEO) | NZD 79k - NZD 231k |
| Accounting & Advisory | NZD 49,090 |
| Government & Public Service | NZD 49,821 |
| Banking & Financial Services | NZD 56,294 |
| Education & Training | NZD 56,411 |
Due to the presence of internationally renowned educational institutions, the nation has recently emerged as a top choice for students from all over the world, offering a brilliant Scope of Masters in New Zealand. New Zealand becomes one of the best countries to study, work, and live in when you add in the student-friendly neighbourhoods and the thriving industrial sector. Choosing to pursue postgraduate studies in New Zealand may be extremely advantageous because you will have access to a variety of research possibilities in your area of study as well as worldwide Masters scope in New Zealand. In this article, we'll go into more detail about the particulars of earning a master's degree in New Zealand and exactly what it entails. Opening up a world of chances and experiences by studying in New Zealand. The local neighbourhood culture of the nation aids international students in navigating a learning curve throughout their academic careers.
Additionally, New Zealand is steadily becoming a preeminent hub of scientific innovation because of the flourishing research and development sector, which encourages the development of cutting-edge and contemporary technology. By promoting students to pursue further education in the fields of Arts, Linguistics, and Literature, the administration has also attempted to conserve and promote its renowned and unblemished art culture. In terms of universities, the QS World University Rankings 2021 have recognised about eight significant academic institutions for a nation with a smaller population than India. You can pick from a variety of STEM and business courses in New Zealand to pursue a master's degree. For degrees in business and management, you might choose a Masters in New Zealand or a master's degree in a specific area of the arts, humanities, or social sciences.

The number of Indian students choosing to study for an MBBS in New Zealand is rising. A few New Zealand institutions also provide interdisciplinary courses with dual degrees in partnership with some other universities in the nation and abroad, such as the University of Canterbury. While enrolled in the course of study here, you'll also get the chance to learn about the rich regional traditions, numerous languages, and how the native culture has changed in response to globalisation or various modernised influences. The January and July Intakes in New Zealand are the two main intakes for which international students can apply.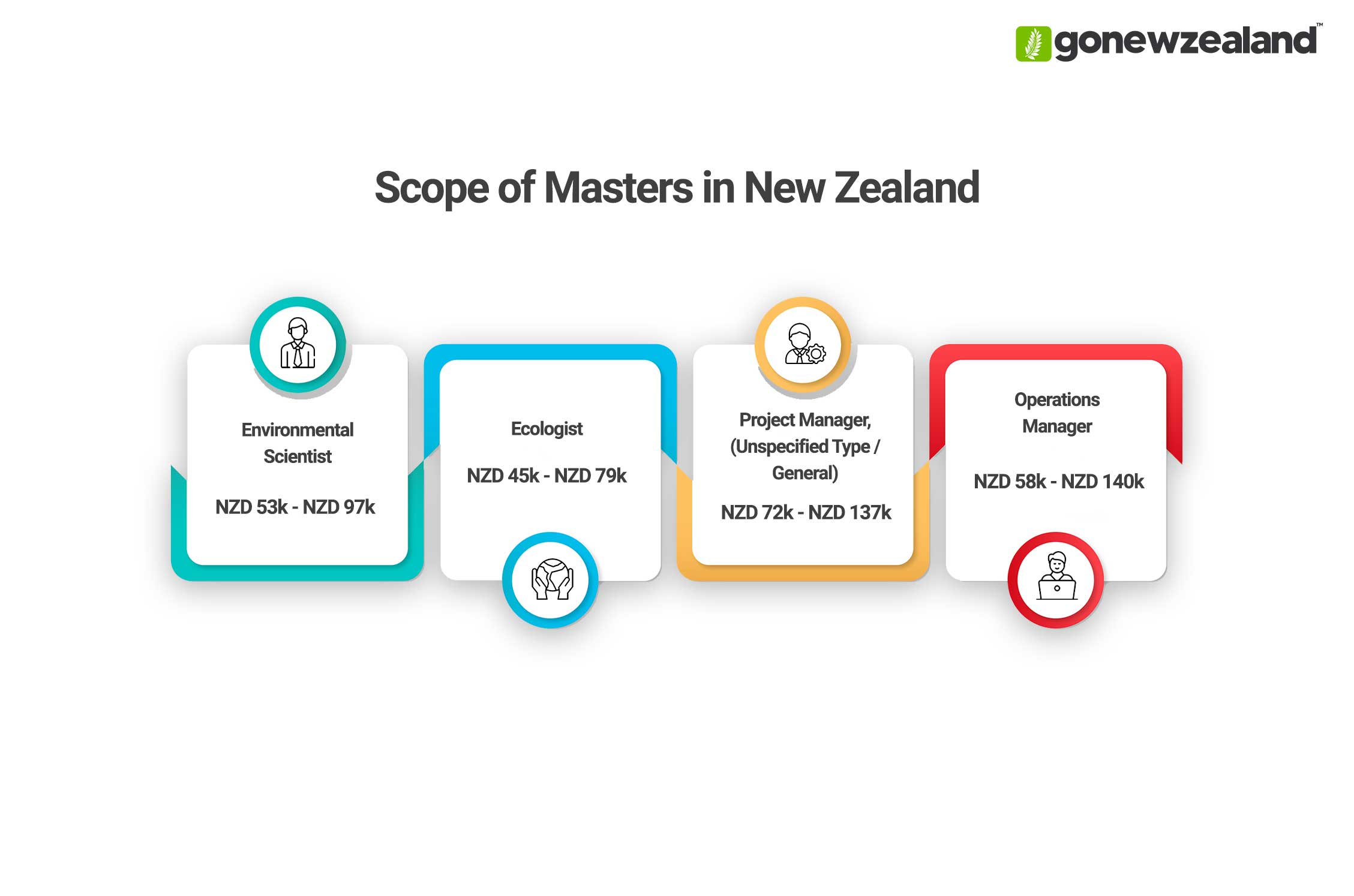 New Zealand's educational system is built on the productive UK model for impeccable Career prospects after Masters (MSc) in New Zealand. With such a strong basis, it is understandable why local institutions are regarded and valued internationally; the majority of them are consistently included in the leading world university rankings. Students who have a liberal arts degree or another non-specific or non-specialized degree can enrol in courses that will enable them to work in another area of study, thanks to their vast available courses. For instance, if you studied biology or sports medicine in college and later decided you desired to specialize in physiotherapy, you may pursue a professional Master's degree to receive the necessary training. With a professional master's degree in education, individuals with a bachelor's degree in social science, maths, or a related field could instruct the subject(s) in which they received their training.

You can receive a Master's level degree after completing your courses in about 2 years. Such degrees, as you might anticipate, are conventional degrees that aid in the development of your expertise in a certain field of employment. They often involve conducting research, and you can get a Master of Arts or Master of Science degree as a result. They are designed to allow you to pursue a PhD after receiving your Master's degree, or you can choose to stop there and find employment in research or a field closely similar to the one you studied for your coursework. There are many job opportunities in New Zealand after Masters for international students to get employment in New Zealand, particularly for high-demand positions, according to the country's official government website.
Before discussing those, let us first explain why you should even think about New Zealand and the employment options there. High Employment Rate, with 93% of students finding post-study work here by chance. Opportunities for employment that are tailored to international students. Outstanding work-life harmony (New Zealand is ranked first in the world). High ratings for quality of life, at least 20+ days of scheduled personal time, and an extra 11 public holidays from work all reflect the tranquil pace of life. Employment for Indian students studying in New Zealand is preferable to those back home since they are removed from the bustle of the big cities. Since students can complete their master's degree in New Zealand in 18 months instead of the typical 24 months, doing so can be quite advantageous.

GoNewZealand consultants can assist you with the information about the universities and scope of pursuing Masters in NewZealand. Our experts can guide you through the application process till the visa application. Reach out to us for more information.