| MASTERS COURSES IN NEW ZEALAND | TUITION FEES FOR MASTERS IN NEW ZEALAND | APPLICATION FEES IN NEW ZEALAND |
| --- | --- | --- |
| MSc in Engineering Project Management | $NZ48,000 | $NZ25 - $NZ50 |
| Masters in Business Studies | NZ$54,700 | $NZ25 - $NZ50 |
| Masters in Artificial Intelligence | $NZ15,474 | $NZ25 - $NZ50 |
| Masters in Actuarial Science | $NZ15,260 | $NZ25 - $NZ50 |
| Masters in Education | $NZ13,478 | $NZ25 - $NZ50 |
| Masters in Intercultural Communication & Applied Translation | $NZ13,478 | $NZ25 - $NZ50 |
| Masters in Applied Business | $NZ23,350 | $NZ25 - $NZ50 |
| Masters in Design | $NZ25,338 | $NZ25 - $NZ50 |
| Masters in Information Technology | $NZ21,900 | $NZ25 - $NZ50 |
| Masters in Applied Technologies | $NZ21,000 | $NZ25 - $NZ50 |
---
Show 14+ tution fees

According to the official New Zealand Education website, the tuition fees for Masters in New Zealand for multiple postgraduate degrees range from NZD 19,000 to NZD 32,000 a year. The average master's degree is earned in two to three years. The cost of studying Masters in New Zealand for Non-EU students lies between NZD 23,000 and NZD 39,000 per year in New Zealand. The cost of medical and veterinary science postgraduate and graduate degrees would be higher. For example, beginning in the second year, the cost of Masters (MSc) in New Zealand for Indian students for the bachelor of medicine and bachelor of surgery programs may reach NZD 75,000. Since these are the fees per year, students would need to calculate the total costs for the number of years that they would be studying. The price of a Masters in New Zealand may differ greatly depending on the university you choose. For Indian students, the average Masters in New Zealand cost is approximately NZD 17,500 per year, just to give you a rough idea.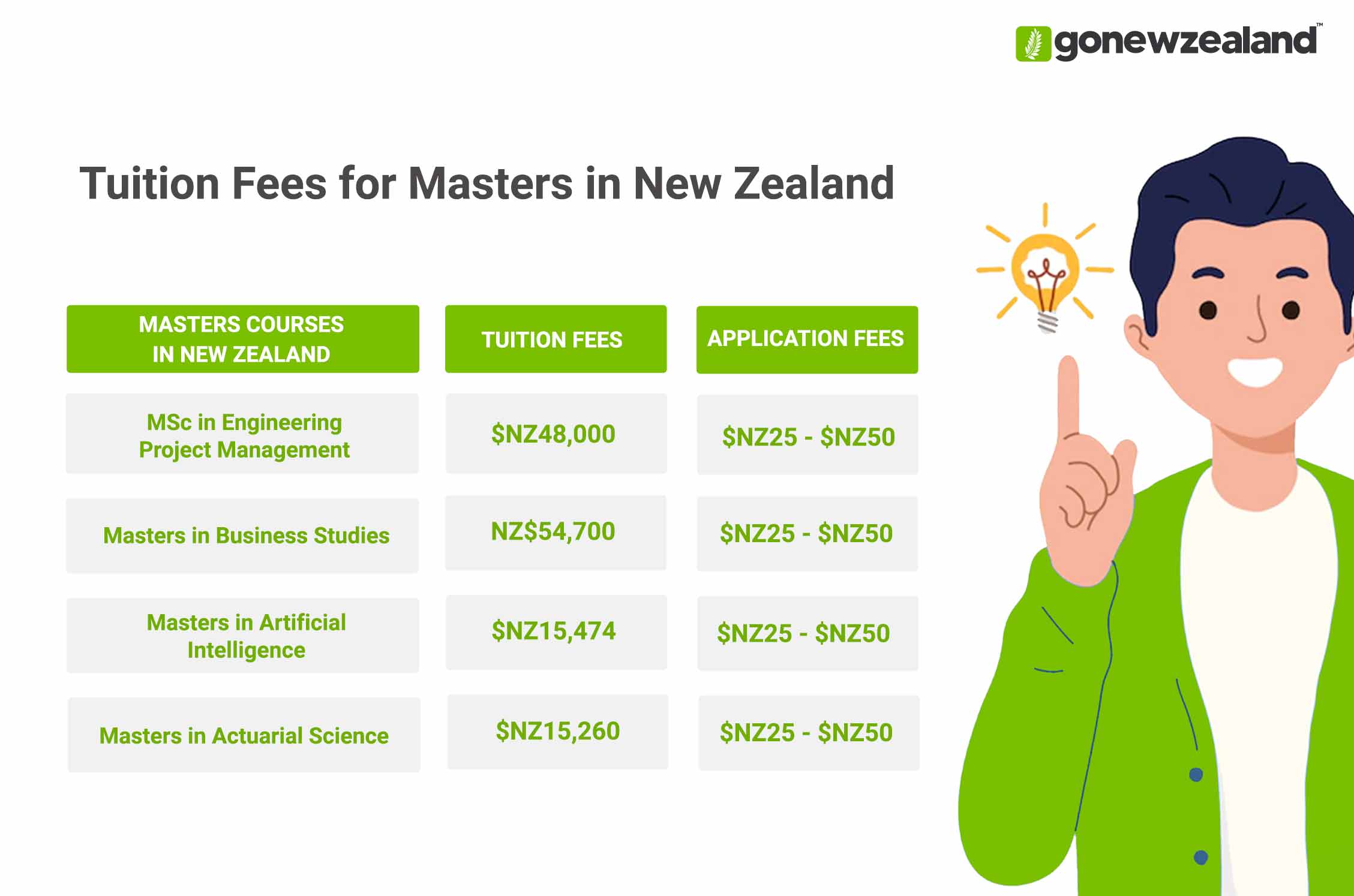 The cost of a Masters in Master's program at several of New Zealand's leading universities for non-EU students averages over NZD 26,000 per year under the faculty's defined norms. At the same time, a Masters at a college costs around NZD 14,000 and NZD 19,000, and a New Zealand Masters at a technology institute runs between NZD 15,000 and NZD 21,000. The New Zealand Masters (MSc) Fees are comparable to other European and non-European nations. Since New Zealand's unique significance and attention to higher education, this is conceivable. The Masters Fee Range in New Zealand varies from NZD 16,000 to NZD 29,500 at higher education institutions such as the famous Auckland University of Technology, Massey University, Canterbury University, and Otago University in New Zealand. The tuition Fee for a Full-Time Course in Masters New Zealand costs roughly NZD 17,000 per year, per the curriculum. The tuition fee in Top Universities in New Zealand for Masters is limited to NZD 35,000. Therefore, the cost of a Masters in New Zealand is between NZD 16,000 and NZD 25,000, which can cover all of your living costs while you are a pupil.

GoNewZealand has the best consultants to guide you through the tuition fees and information about bank loan interest rates. For further information, don't hesitate to contact us.