| BEST UNIVERSITIES FOR MBA IN NEW ZEALAND | ENTRY REQUIREMENTS FOR MBA IN NEW ZEALAND |
| --- | --- |
| University of Auckland | 60% or 6.0 CGPA |
| Massey University | 75% or 7.5 CGPA |
| University of Waikato | 70% or 7.0 CGPA |
| Auckland University of Technology | 60% or 6.0 CGPA |
| Lincoln University | 60% or 6.0 CGPA |
| Victoria University of Wellington | 60% or 6.0 CGPA |
| Unitec Institute of Technology | 60% or 6.0 CGPA |
| Otago Polytechnic | 60% or 6.0 CGPA |
| Eastern Institute of Technology | 60% or 6.0 CGPA |
| Manukau Institute of Technology | 60% or 6.0 CGPA |
---
Show 12+ Universities

Following simple guidelines, students can easily procure admission to some of the most notable New Zealand educational institutions. Compared to other nations where students can study, New Zealand has many universities specializing in MBA degree programs, with thorough yet manageable Eligibility Criteria for MBA in New Zealand Universities. Thanks to GoNewZealand's knowledgeable specialists and advisors who simplify the admissions process, you won't have any trouble enrolling. Before enrolling in a certain institution, students are expected to complete the extremely specific requirements of each university and private institution. Only deserving students will be able to pass the stringent admissions procedures because New Zealand offers several chances and has a relatively high degree of training in comparison to other nations. Institutions offer the top MBA programs in New Zealand with top-notch instructors and facilities that focus on helping students develop their ethical leadership, environmental stewardship, and modern management ideals. Both public and commercial MBA institutions in New Zealand have committed resources to market their MBA programs and courses to more easily draw in overseas students.
New Zealand's MBA institutions offer program frameworks that can assist graduates in gaining some of the greatest jobs in prestigious businesses, not just here in New Zealand but also abroad. Other noteworthy attractions and characteristics of the MBA institutions in New Zealand include first-rate facilities and a properly thought-out curriculum. Particularly, the MBA program at the university highlights the best in every student. The curriculum directs them in choosing the best path for their management and business careers. They even have the opportunity to create a global network through international study excursions and learning through global collaboration. Students who want to enrol in New Zealand universities for studying MBA degree courses should pass the graduation degree in any relevant field to their MBA degree with a minimum aggregate of 80-85% in subjects such as Science, arts, commerce, finance, business, engineering or any similar verticals as the basic New Zealand entrance requirement for MBA.

Some private institutions may also relax the score aggregate to 75% or 65% in some cases, depending on the students, but any reputed public college would always ask for something that's on the upper limit of 80%. The candidates should not have more than five arrears in the courses to qualify for the best universities. However, certain institutions may relax it to the count of 10 to 12. One of the most crucial requirements for studying MBA in New Zealand at several universities is a minimum of three to five years of management-related work experience. Students are better able to handle the peer-centric and aggressive resources of New Zealand MBA programs thanks to their work experience. The GMAT provides a starting point for a student's mathematical, analytical, and inductive abilities. One of the most important General entry requirements for an MBA in New Zealand is the GMAT, which some MBA institutions in New Zealand even require to be between 500 and 700. However, enrolling in an MBA program in New Zealand is still feasible without a GMAT.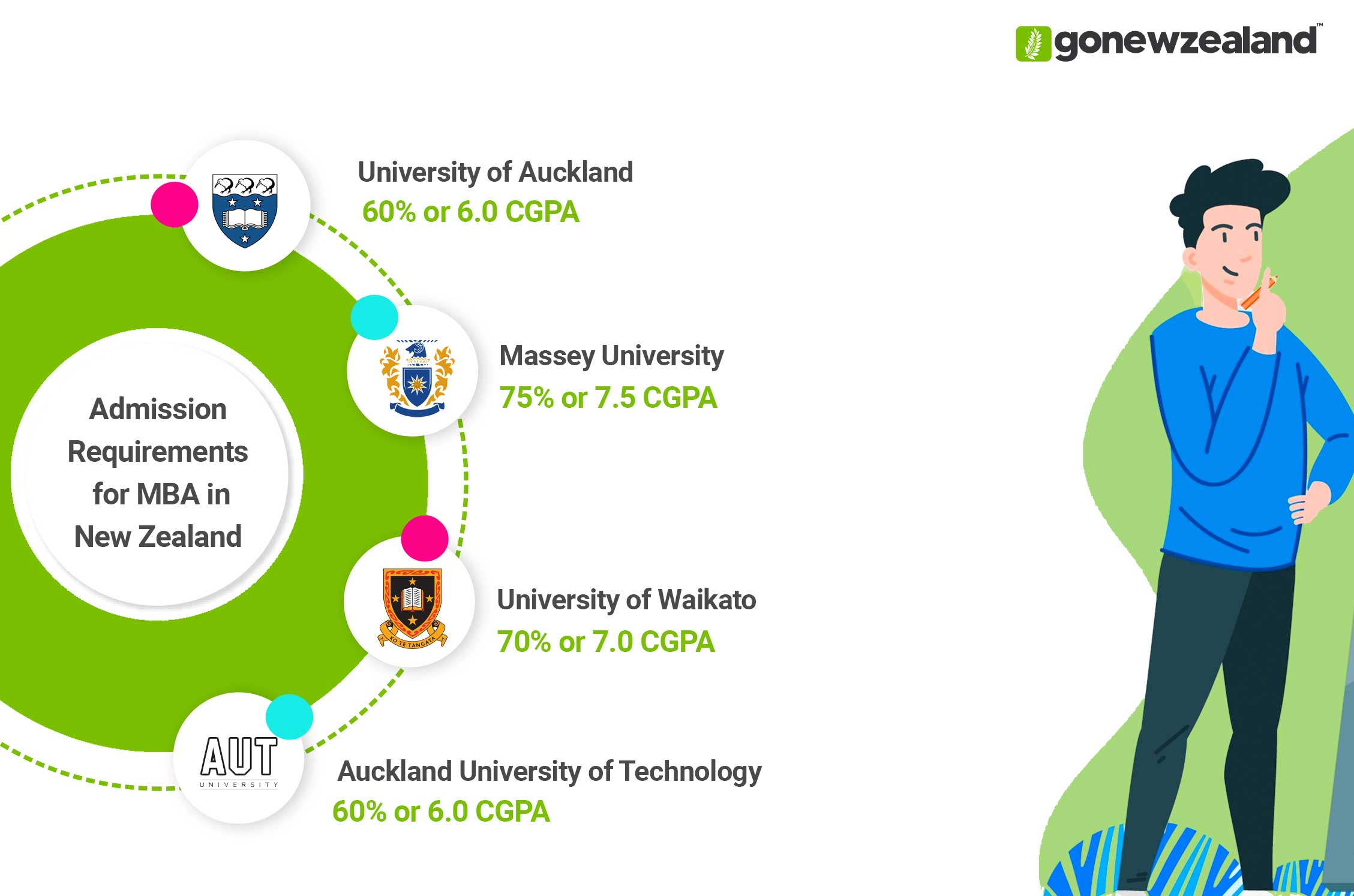 The deadlines for MBA in New Zealand through GoNewZealand can always change and differ in accordance with the terms set by individual universities and colleges. However, you can check the faculty website for exact details or consult with one of our seasoned counsellors for a better understanding of the study MBA in New Zealand requirements. Other than the aforementioned university admissions and eligibility criteria, some other relevant general entry requirements for MBA universities in New Zealand are:

SOP, LOR & Resume: Statement of Purpose or SOP is one of the important documents as the paper details the intended purpose of the student for continuing with the MBA study and showcasing their previous educational and professional credentials and performance. LOR is a recommendation letter that is issued by the senior authority for recommending the student and proving their credibility. A resume is the last document that covers all the information about the student in detail, including personal, professional and academic.

GMAT: The GMAT score is not mandatory in all colleges; however, some may ask for it. In that case, the score should not be less than 550.

Contact our GoNewZealand counselors if you need information on the admission requirements to pursue MBA in New Zealand based on your interests. We will guide and assist you in the entire application process.