Medical insurance, living expenses, and MBA admissions fees should all be taken into account when calculating the, On-Campus Accommodation Cost for MBA in New Zealand. In addition, it takes money to pursue a degree in New Zealand; you need valid student immigration permission. The following costs are all taken into account when determining the cost of living in New Zealand to study MBA:
New Zealand MBA school costs
Living expenses in New Zealand
Cost of an MBA before arrival in New Zealand
Post-arrival MBA tuition in New Zealand
Depending on the institution, the course specialization, and the lifestyle the student chooses, the total living cost for Indian students in New Zealand per month to study MBA would range from 15,00,000 INR to 45,00,000 INR each year. The estimated cost of living in New Zealand while studying MBA may also differ from what you are used to back home. Students are responsible for covering their travel and lodging costs once they have enrolled at the university in New Zealand. Homestay costs around NZD 1,017 - NZD 1,356 (77,592 - 103,456 INR) (77,592 - 103,456 INR), Hostel costs around NZD 678 - NZD 1,017 (51,728 - 77,592 INR) (51,728 - 77,592 INR), Food costs around NZD 325 - NZD 372 (24,796 - 28,381 INR) (24,796 - 28,381 INR), Travelling is estimated at NZD 67.81 (5,173 INR) (5,173 INR).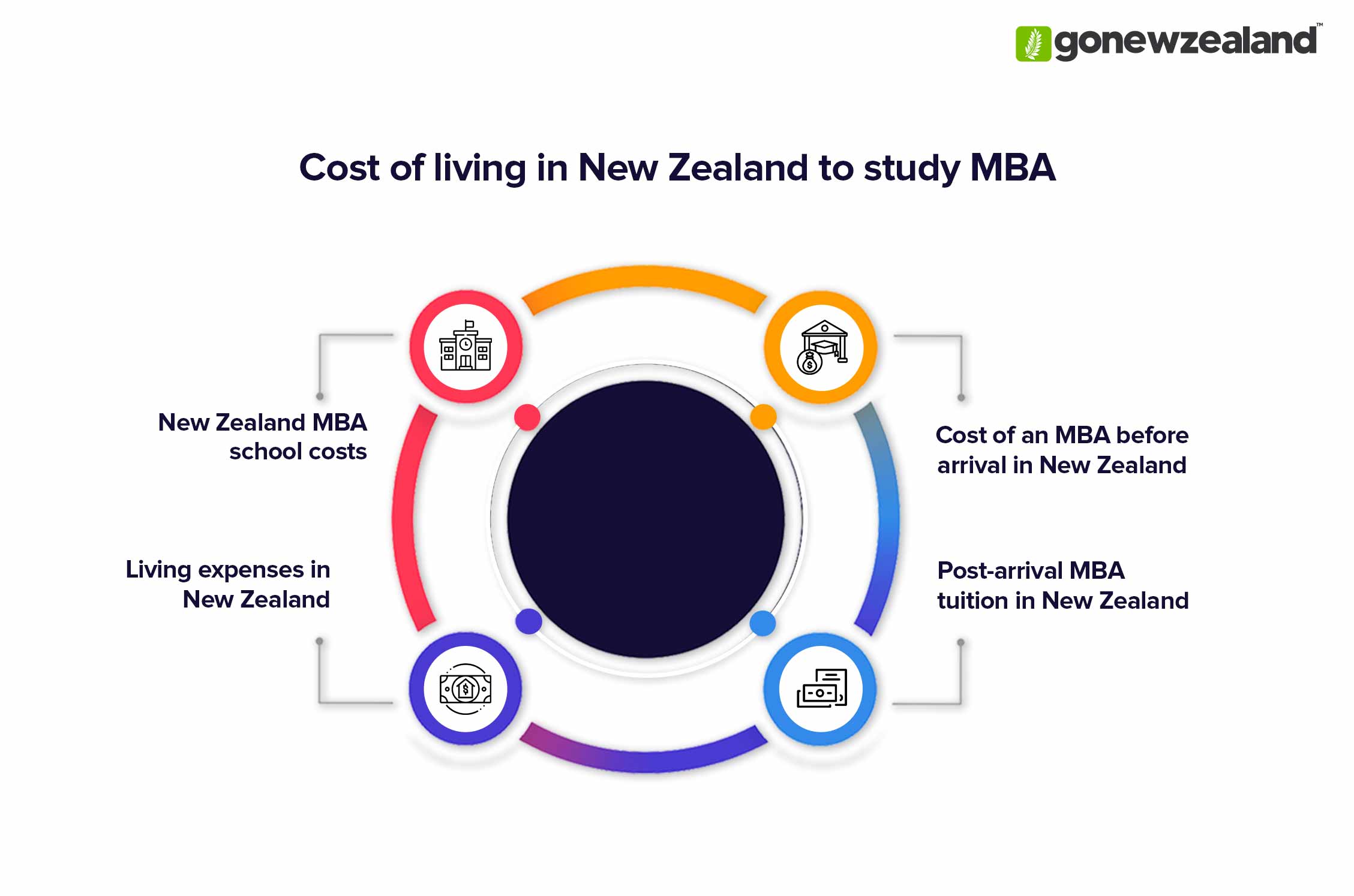 Living expenses in New Zealand for Non-EU MBA students will depend entirely on their way of life and where they live in the nation. The best places to live in New Zealand, however, are in the top three biggest cities: Auckland, Wellington, and Christchurch. The most expensive cities in terms of housing costs, dining out, and entertainment are Auckland and Wellington. Despite having a roughly 50% higher cost of living in New Zealand for a single person studying MBA than in rural communities, these three cities offer the widest range of career opportunities.
Get all your doubts
clarified now for

Free
I agree to GoNewzealand terms and privacy policy
or