| JOB ROLES AFTER MBA IN NEW ZEALAND | EXPECTED SALARY AFTER MBA IN NEW ZEALAND |
| --- | --- |
| Program Manager | NZD 130,000 |
| Software Architect | NZD 135,846 |
| Product Owner | NZD 67,180 to NZD 153,700 |
| Senior Product Manager | NZD 205,010 |
| Senior Program Manager | NZD 162,462 |
| Technology Consultant | NZD 154,463 |
| Business Analyst | NZD 100,197 |
| Technical Analyst | NZD 44,000 to NZD 101,300 |
| Director of Operations | NZD 95,197 to NZD 255,000 |
Choosing to study for an MBA in New Zealand is excellent as the scope of MBA in New Zealand is flourishing. New Zealand has established a solid international reputation for quality and competence by harbouring some of the best MBA universities. New Zealand provides globally renowned degrees that give students excellent employment options and generous compensation packages, combining the advantages of a developed society with the peace of its friendly environment. MBA is a premium degree for those who are intellectually demanding and ambitious. An MBA program can change your life; it's about more than just gaining a professional set of abilities. It is a period of transition that improves people's knowledge and personalities overall, preparing them to be professional leaders and wise decision-makers. MBA scope in New Zealand has some clear advantages over other nations across the world, including
New Zealand has reasonably priced MBA schools that grant degrees that are recognised worldwide.
The admissions and visa application processes are easy.
Universities in New Zealand provide MBA programs that help students advance their job prospects and financial standing.
The development of students' strong personalities is given a lot of weight.
International students have the chance to study numerous businesses' global economies in-depth through MBA courses.
Students are immersed in a multicultural environment that blends Western and Eastern traditions, fostering a comprehensive understanding of diverse perspectives.
New Zealand might offer a space to breathe in a world of disease and crowded cities. The country offers its international students the chance to enjoy an elevated stature of life and a healthy work-life balance thanks to cities like Wellington, which is listed as the 3rd happiest, 2nd livable, as well as 18th-safest city in the world. Despite the fact that New Zealand's cost of living is marginally greater than India's (197.2% more, not including rent figures; New Zealand's rent is 460.67% less than that of India), one may manage thanks to affordable college prices, the opportunity to work whilst studying, plus scholarship opportunities. Because of the availability of visas enabling graduates to start working there after earning their degree, the nation could develop into a second home for international students moving to New Zealand to pursue a postgraduate course like an MBA. Strong quality assurance measures are in place, and the New Zealand government actively regulates the educational system. International students worldwide can be confident that they will receive a top-notch education that will increase their chances of finding employment in the global labour market.

New Zealand, which has a population of about 4.6 million, provides space for its pupils to breathe and be themselves. Prominent universities for overseas students who want to attend higher education overseas can be found in New Zealand. Individuals can pursue an MBA in New Zealand due to its affordability, 0.08% greater ROI than in Australia, and its variety of finance alternatives, which are followed by the availability of working visas while studying. The MBA in Business Administration (MBA), one of the world's most well-known degree programs, is a big favourite among young people nowadays. Many people who want to excel in the business sector are interested in the MBA program, which combines theoretical knowledge and practical experience.

Applicants with an MBA from a reputable university have a wide range of job opportunities after an MBA in New Zealand at their disposal. An MBA program not only equips students with managerial abilities but also teaches them how to analyze current industry trends and successfully implement them in the future. Institutions in New Zealand are able to provide students with varied challenges to hone their management skills through the use of a variety of technologies. The University of Canterbury recently received the triple crown of recognition from EQUIS, AACSB, and AMBA. These universities are acknowledged and accredited as well.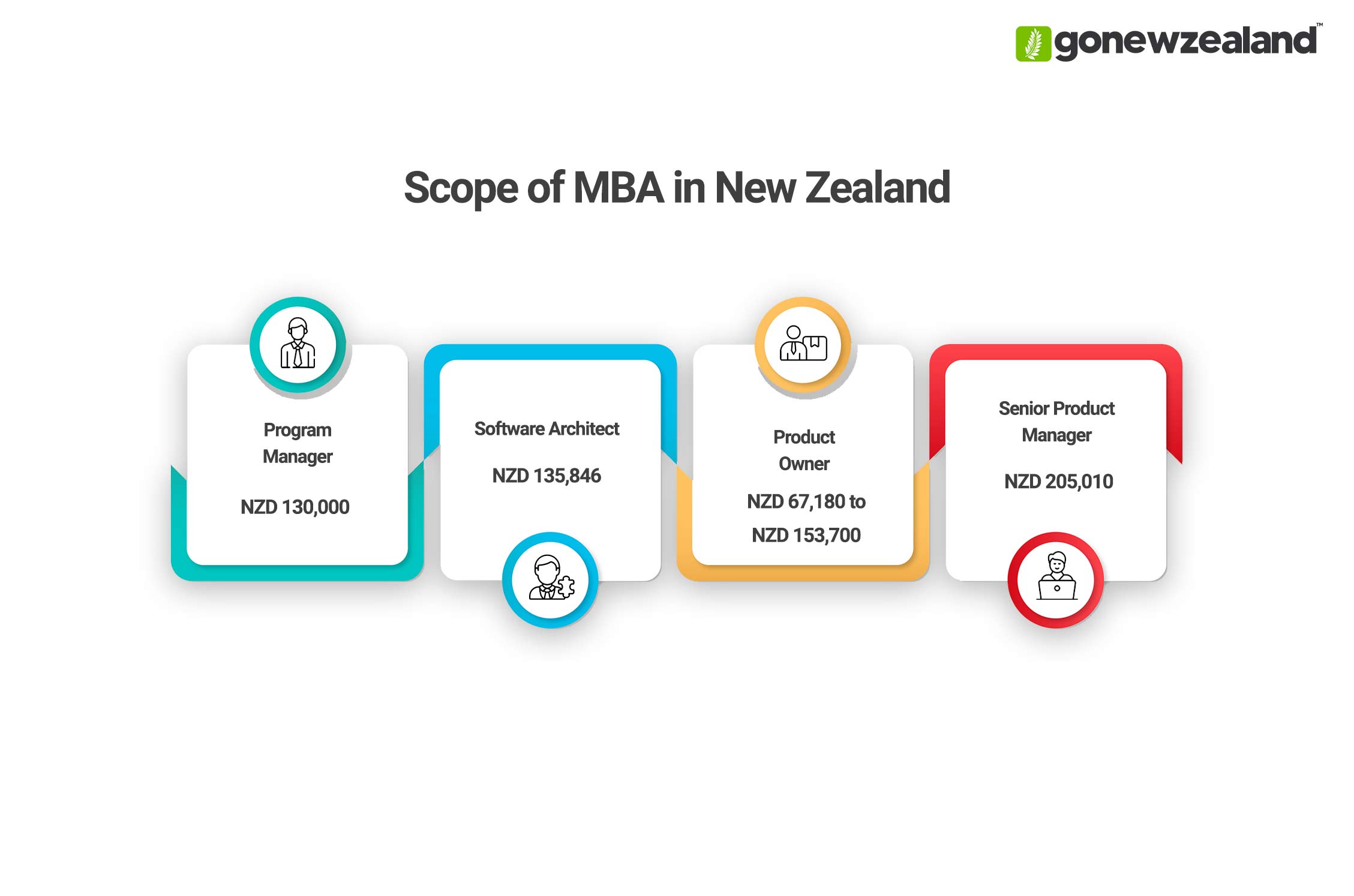 EQUIS and AACSB have both accredited by Otago Business School. As a destination for business education, New Zealand provides a variety of MBA programs and long-term career prospects after an MBA in New Zealand. Due to its high-quality education, reasonably priced programs, and healthy economy, professionals who want to play the role of prospective managers are looking to get a business administration master's degree from New Zealand. It is advantageous for students wishing to study higher education in New Zealand to have a wide selection of programs and institutions from which to pick. Numerous MBA courses are available to students across the nation through a variety of higher education institutions. Students who choose New Zealand as the preferred location for their MBA program have the option of choosing between the traditional MBA Degree, which typically focuses on general management, and specialized MBA Programs that would broaden to the specialized field such as healthcare system, consulting, and logistics, to name a few.