| BEST UNIVERSITIES FOR Ph.D. IN NEW ZEALAND | ENTRY REQUIREMENTS FOR Ph.D. IN NEW ZEALAND |
| --- | --- |
| University of Auckland | 60% or 6.0 CGPA |
| Massey University | 60% or 6.0 CGPA |
| University of Waikato | 50% or 5.0 CGPA |
| Auckland University of Technology | 60% or 6.0 CGPA |
| Lincoln University | 60% or 6.0 CGPA |
| Victoria University of Wellington | 50% or 5.0 CGPA |
| Unitec Institute of Technology | 60% or 6.0 CGPA |
| Otago Polytechnic | 60% or 6.0 CGPA |
| Eastern Institute of Technology | 50% or 5.0 CGPA |
| Manukau Institute of Technology | 50% or 5.0 CGPA |
---
Show 12+ Universities

Students must demonstrate they have the academic credentials and sufficient expertise in their selected subject area in order to be approved to pursue a Ph.D. in New Zealand. Students may need to hold a master's degree with first- or second-class distinctions, or the corresponding certification, even though entry Requirements for Ph.D. (Doctorate) in New Zealand vary. With the assistance of GoNewZealand advisers, the eligibility criteria for Ph.D. in New Zealand Universities are rather straightforward and may be satisfied with ease. Students can swiftly gain entrance to some of the most famous academic institutions in New Zealand by following a few simple New Zealand entrance requirements for Ph.D. When compared to other nations where students can study, New Zealand has a number of universities that specialize in Doctoral degree programs, with strict yet manageable eligibility requirements for Doctoral in New Zealand Universities. Enlistment will not be a challenge for you because GoNewZealand's knowledgeable professionals and advisers make the admissions process simple for you.
Students who wish to enroll in Ph.D.degree programs at New Zealand universities must have a bachelor's and masters degree in a discipline that is related to their Ph.D. program as well as an aggregate score of a minimum of eighty to eighty-five percent in disciplines like science, the arts, commerce, finance, business, or other related fields. Based on the student body, certain private colleges may also lower the required score aggregate to 75% or 65%. However, any quality public university will always require a minimum of 80%. Candidates should not have more than five courses in arrears in order to be admitted to the best universities; nevertheless, some institutions may relax this guideline to a count of 10 to 12.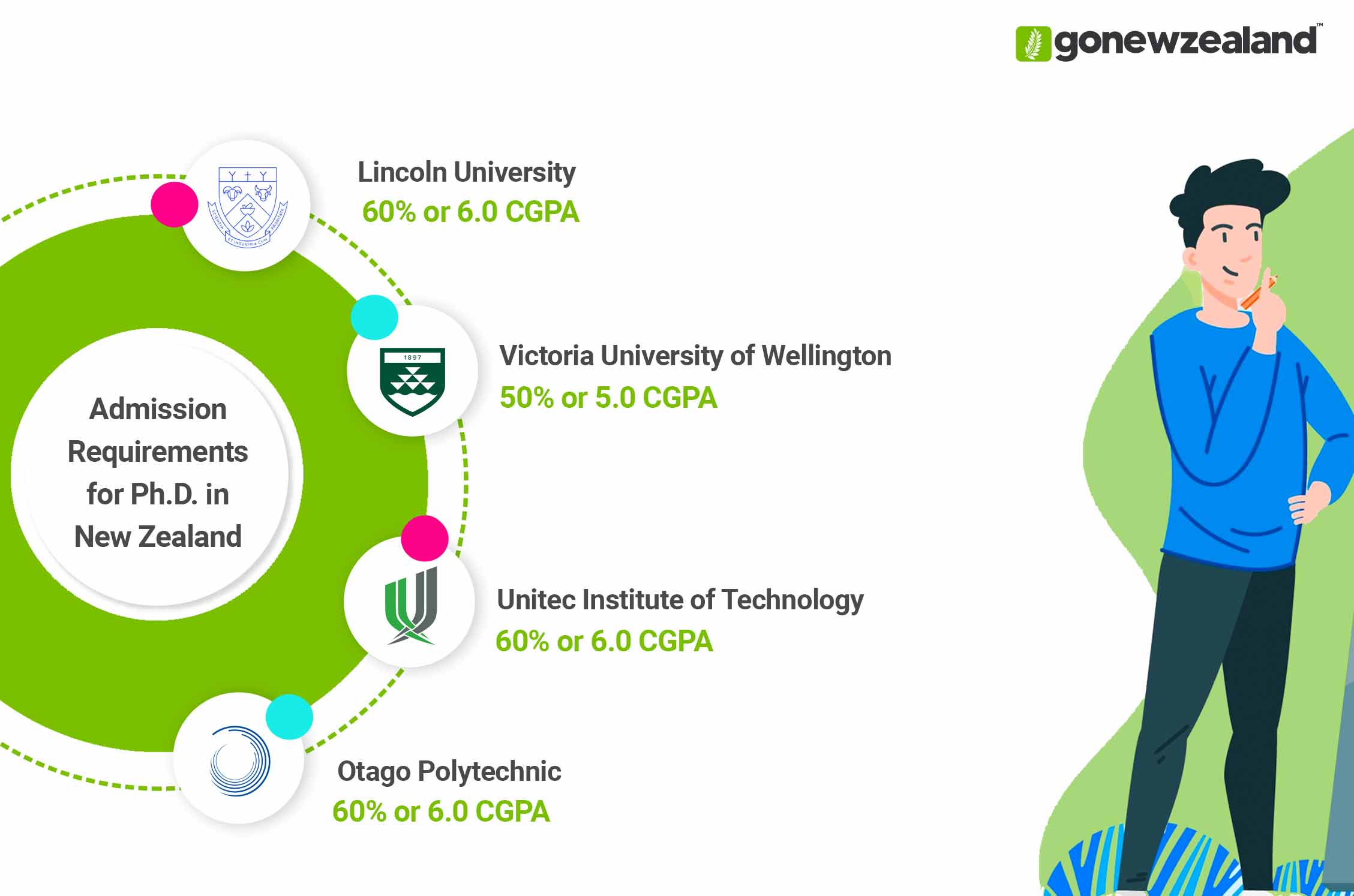 Universities primarily admit international students in February and July. The month of July is the one when most foreign students enroll. An honors degree, which in New Zealand is equivalent to the fourth year of study after earning a bachelor's degree in the area of research and is not the same as a category of marks as it is in the UK, is required to be qualified for a PhD. After completing three years of study, it's common for graduate students to apply immediately for a Ph.D., provided they have demonstrated exceptional exam performance, are engaged in the same topic for their doctorate, and have an appropriate background in the same field with all the general entry requirements for Ph.D. in New Zealand followed. A Ph.D. can be started at any moment because it is a degree in independent research. As a result, you won't exactly need to submit your application prior to the beginning of a particular academic year or session. If you're enrolling for a Ph.D. that has been advertised, especially if it comes with financing, exceptions might be made.

These initiatives frequently have a predetermined start date and have deadlines for Ph.D. (Doctorate) in New Zealand that are determined by that date. Don't forget to give yourself enough time to submit an international application. The process will need to be finished before you can obtain a visa, so as a rough estimate, plan on it taking at least four months. Apart from the aforementioned Study Ph.D. in New Zealand requirements, you are also required to submit the SOP or Statement of Purpose unveiling your intention for a Ph.D. and previous academic credentials along with a Recommendation Letter that recommends the student for pursuing the course. If you have completed the GMAT, you should look forward to scoring more than 600 to pursuing a Ph.D. in New Zealand.

GoNewZealand consultants can assist you with all the information required for the admission process to pursue Ph.D. in New Zealand. Our experts can guide you through the journey considering all the requirements.