| Job Role After Ph.D. in New Zealand | Average Salary (in NZD) |
| --- | --- |
| Research Scientist | NZD 81,179 |
| Senior Lecturer | NZD 90,705 |
| Data Scientist | NZD 79,778 |
| Environmental Scientist | NZD 76,956 |
| Research & Development Engineer | NZD 69,536 |
| Senior Policy Advisor | NZD 94,335 |
| Chief Technology Officer | NZD 133,483 |
| Research & Development Manager | NZD 80,843 |
| Senior Mechanical Engineer | NZD 93,402 |
| Product Development Manager | NZD 112,391 |
---
Show 4+ Jobs

Consideration should be given to pursuing a Ph.D. in New Zealand if you want to enhance your career internationally, owing to the brilliant Ph.D. scope in New Zealand. For Indian students, doing a Ph.D. in New Zealand is rewarding. The nation is one of the best locations for Ph.D. programs in the world, offering solid course structures and challenging theses along with numerous Scopes of Ph.D. in New Zealand. After completing their courses, Ph.D. students are granted special three-year employment permits. They also have unrestricted employment rights under the study visa. Most full-time applicants are permitted to work up to 20 hours per week during the academic year and 40 hours each week during intervals and holidays with student visas. Over the course of the year, Ph.D. candidates are permitted to work up to forty hours a week. Students can register for the initial 12 months of their post-study work visa after completing the Ph.D. program. After that, students can request yet another 2 years with the cooperation of the employer after finding work.

One of the best places for international students to study abroad in New Zealand, which is renowned for its Ph.D. programs and glamorous job opportunities in New Zealand after Ph.D. An extensive thesis that contributes significantly to the topic of study in question is part of the course structure. You can find the perfect combination of great research opportunities, reasonably priced tuition, and a wide selection of extracurricular activities in New Zealand, along with bright Career prospects after a Ph.D. in New Zealand. Whichever of New Zealand's eight institutions you've chosen for your Ph.D., you can always be confident that you will receive a top-notch education because all eight of them are highly ranked in the world's university rankings. In order to offer researchers the appropriate infrastructure for their work, some Ph.D. programs in New Zealand call for specialized research centers, which are consequently located apart from the universities.
You can take advantage of the area's natural beauty while conducting a study because you'll be staying for longer than three years. Not to mention, New Zealand is ranked second on the rankings in the 2021 World Peace Index, so you can be confident that you will be secure here. Starting in 2005, overseas Doctoral students in New Zealand have paid the same tuition as local students, they are permitted to work full-time, bring a partner who is also permitted to work full-time, and register their children in state-funded schools.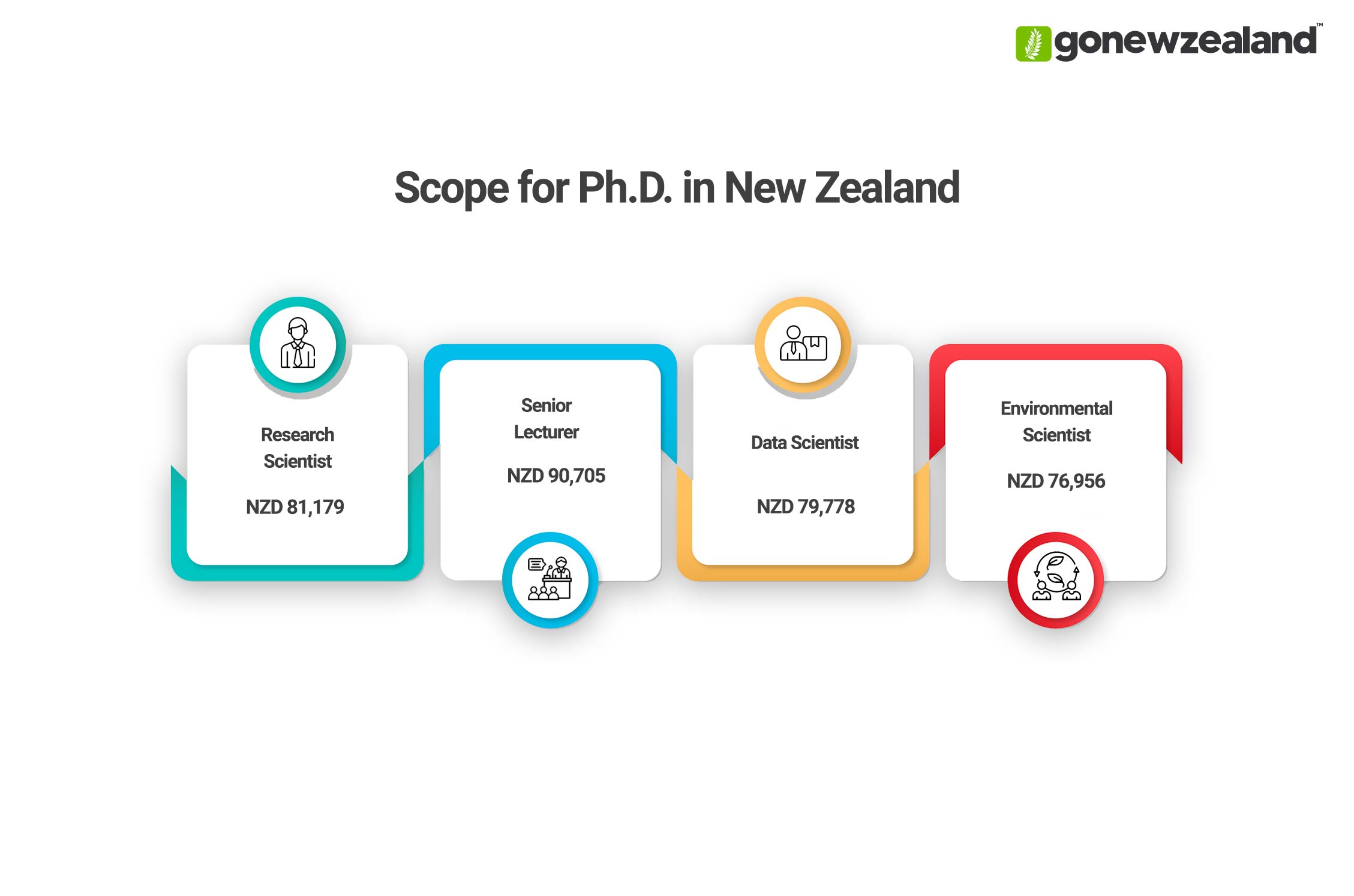 EQUIS and AACSB have both accredited by Otago Business School. As a destination for business education, New Zealand provides a variety of PhD programs and long-term career prospects after an PhD in New Zealand. Due to its high-quality education, reasonably priced programs, and healthy economy, professionals who want to play the role of prospective managers are looking to get a business administration master's degree from New Zealand. It is advantageous for students wishing to study higher education in New Zealand to have a wide selection of programs and institutions from which to pick. Numerous PhD courses are available to students across the nation through a variety of higher education institutions. Students who choose New Zealand as the preferred location for their PhD program have the option of choosing between the traditional PhD Degree, which typically focuses on general management, and specialized PhD Programs that would broaden to the specialized field such as healthcare system, consulting, and logistics, to name a few.

New Zealand's bid of domestic tutoring to all Ph.D. students, comprehensive employment rights for the trainee and their companion, as well as domestic university fees for their kids, is exceptional in its scope and vision, according to Brett Berquist, Director, Global at the Auckland University in New Zealand. The Ph.D. subsidy scheme in New Zealand treats foreign students the same as domestic ones, whose annual Ph.D. tuition costs range from NZD 6,500 to NZD 9,000. This amounts to around one-third of what foreign students generally spend for a postgraduate course. Working while pursuing their PhDs is another way for students to cut expenditures. Overseas Ph.D. students can still obtain a three-year post-study work permit to remain and be employed in New Zealand after they have graduated.
New Zealand is a welcoming study-abroad location for families. An unrestricted work permit that is valid for the whole length of the Ph.D. is available to the spouse or partner of an overseas Ph.D. student. Any dependent offspring of foreign Ph.D. students are also considered domestic students and are eligible for the same discounts on primary and secondary education as New Zealanders. These advantages entail increased financial and psychological support for the student. It would be excellent if individuals could get their family in the area because pursuing a Ph.D. is a significant commitment that takes several years to finish. New Zealand is small and hospitable, so students on campus have regular, direct access to the administrative and academic staff. Ph.D. students routinely meet with their advisors to go over their work, exchange ideas, voice any concerns or difficulties, and come up with solutions.

This is encouraging for doctorate students who are looking for individualized criticism and counsel. Additionally, it makes it simpler for students to contact researchers and academics in their field and form networks, which will be beneficial for both their Ph.D. studies and perhaps even their future professions.

We at GoNewZealand, can assist you in choosing the right universities and help with application to visa processing. Our experts understand the scope of pursuing a Ph.D. in New Zealand; we can guide you in the right direction.