| BEST UNIVERSITIES FOR PGDip IN NEW ZEALAND | ENTRY REQUIREMENTS FOR PGDip IN NEW ZEALAND |
| --- | --- |
| Ara Institute of Canterbury | 50% or 5.0 CGPA |
| Auckland Institute of Studies | 65% or 6.5 CGPA |
| Eastern Institute of Technology | 50% or 5.0 CGPA |
| Institute of Pacific United (IPU) | 60% or 6.0 CGPA |
| Lincoln University | 60% or 6.0 CGPA |
| Manukau Institute of Technology | 50% or 5.0 CGPA |
| Massey University | 60% or 6.0 CGPA |
| National Technology Institute - Aspire 2 International (NTEC) | 60% or 6.0 CGPA |
| Nelson Marlborough Institute of Technology (NMIT) | 50% or 5.0 CGPA |
| New Zealand Tertiary College | 55% or 5.5 CGPA |
---
Show 12+ Universities

The entry requirements for postgraduate diploma (PGDip) in New Zealand are very simple to comprehend and made flawless for students to enroll. Although the various procedures and obligations may be subject to change depending on distinct universities and colleges, the standard rules and regulations apply the same for most candidates. In contrast to other countries where individuals can enroll, New Zealand boasts a large number of universities that offer Postgraduate diploma degree programs, each with rigorous yet reasonable admission requirements. You will have no difficulty enrolling thanks to the knowledgeable experts and consultants at GoNewZealand, who keep the eligibility criteria for a postgraduate diploma in New Zealand universities straightforward for you. Students must fulfill the incredibly detailed prerequisites of each university as well as a private institution before entering. Due to the numerous opportunities and relatively high level of training that New Zealand offers in comparison to other countries, only qualified students will be permitted to pass the rigorous New Zealand entrance requirement for postgraduate diploma courses.
The Postgraduate diploma programs offered by New Zealand's colleges can help graduates secure some of the best jobs in well-known companies both domestically and abroad. The top-notch facilities and a carefully considered curriculum are additional significant benefits and features of the Postgraduate diploma institutes in New Zealand. Particularly, the university's Postgraduate diploma program brings out the best in each student. Their choice of the optimum route for their business or management careers is guided by the curriculum. They even have the chance to establish a global network by participating in international study abroad programs and learning through cross-cultural cooperation. As a minimum Study postgraduate diploma in New Zealand requirement, universities for postgraduate diploma programs ask graduates in any field related to their degree to have an overall grade point average of 80 to 85% in subjects related to science, the arts, marketing, finance, business, engineering, or any other verticals of a like nature.

Any reputable public college would usually require something that was on the top limit of 80%. However, some private universities might even lower the scoring average to 75% or approx 65% in some situations, depending on the students. To be eligible for the best universities, applicants need not have had more than five-course delays. A student's quantitative, analytical, and inductive skills can be gauged via the GMAT. The GMAT, which several PGDip institutions in New Zealand even need, should be between 500 and 700. It is one of the most significant general entry requirements for a postgraduate diploma in New Zealand. It is still possible to enroll in a New Zealand PGDip program without a GMAT, though.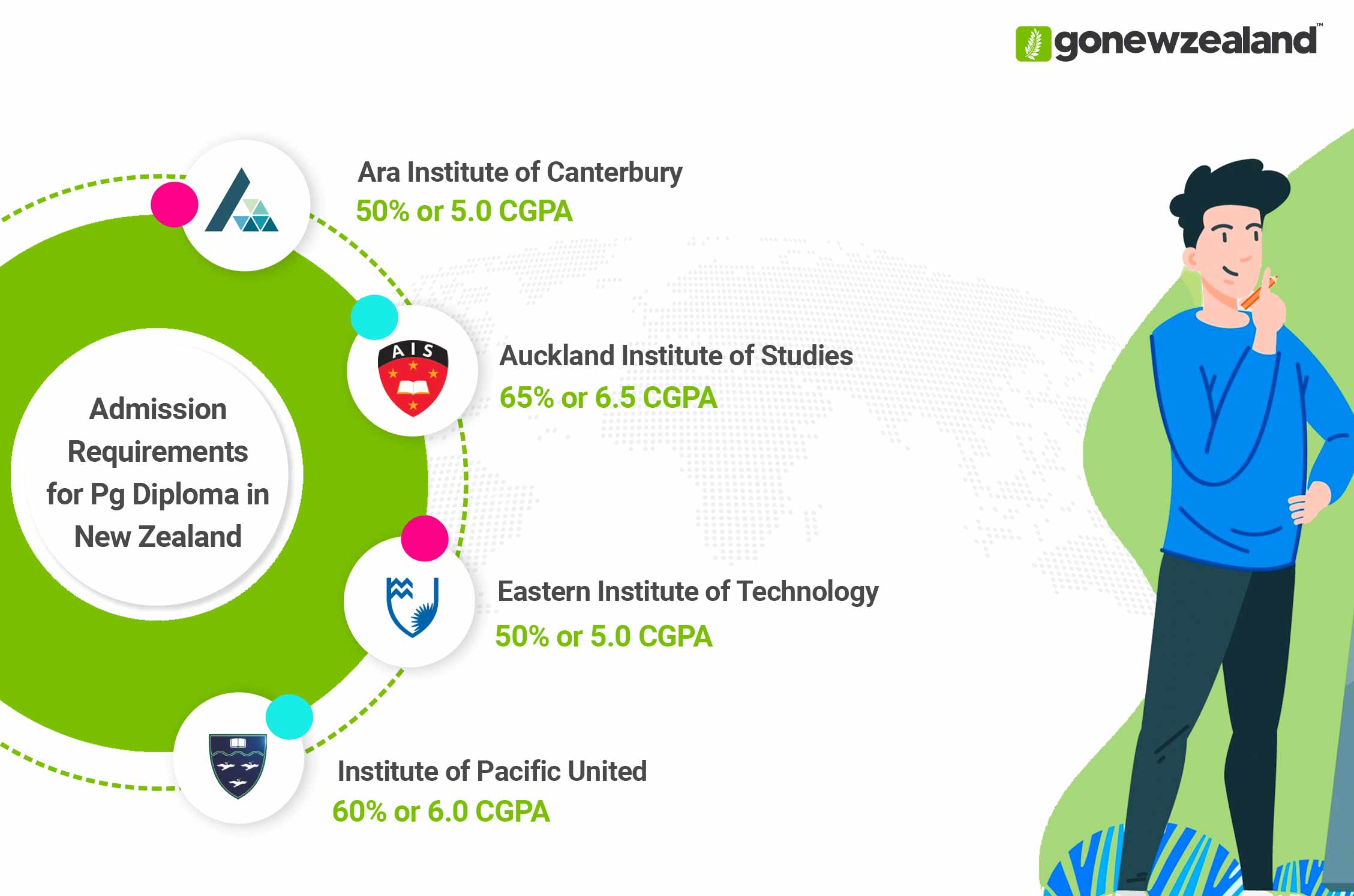 The deadlines for Postgraduate Diploma (PGDip) in New Zealand offered by GoNewZealand are subject to alteration and deviation in accordance with the conditions established by specific universities and colleges. To learn more about the criteria for studying for a postgraduate diploma in New Zealand, you can visit the faculty website or speak with one of our knowledgeable counselors. Students invest time in developing their personalities and soft skills outside of the classroom. Studying in New Zealand is probably going to give a student much more information, skills, experience, and confidence than studying elsewhere. Some other criteria for enrolment in some of the reputed THE ranked universities are mentioned below:

SOP, LOR, and Resume: The Statement of Purpose, or SOP, is one of the most crucial documents since it explains why a student wants to continue studying for a Postgraduate diploma while also highlighting their prior academic and professional accomplishments. A letter of recommendation, or LOR, is written by a senior official to endorse a student and attest to their reliability. The last documentation that thoroughly details all of the student's information—personal, professional, and academic—is a resume.

GMAT: While not all colleges require the GMAT score, some may do so. The score in the situation shouldn't be lower than 550

To know more about the admissions criteria required for individual colleges to pursue your Postgraduate Diploma in New Zealand, do reach out to our GoNewZealand Consultants. We have expert consultants who can help with the requirement process and complete the application.