| Job Role After PGDip in New Zealand | Average Salary (in NZD) |
| --- | --- |
| Accounting | NZD 82,000 |
| Agriculture, fishing and forestry | NZD 60,000 |
| Architecture | NZD 81,000 |
| Automotive | NZD 65,000 |
| Banking, finance and insurance | NZD 85,000 |
| Construction and roading | NZD 72,000 |
| Customer service | NZD 53,000 |
| Education | NZD 62,000 |
| Engineering | NZD 80,000 |
| Executive and general management | NZD 116,000 |
---
Show 14+ Jobs

Those who want to improve their skills and begin a career in a specific subject could think about enrolling in a PG diploma program in New Zealand. A wide range of internationally recognized top-quality diploma courses is available in New Zealand. In New Zealand, the diploma program typically lasts one year and is fairly economical compared to other nations. The scope of the postgraduate diploma in New Zealand is immense owing to the massive presence of globally recognized organizations and promising employment opportunities.

In New Zealand, a lot of overseas students choose a postgraduate diploma in the event they don't meet the requirements for a master's or lack sufficient job experience. Additionally, among Indian students seeking permanent residency in New Zealand, diploma programs are top-rated. The postgraduate diploma scope in New Zealand is growing in popularity and preference among international students due to its reasonable tuition costs, top-notch educational system, secure and tranquil atmosphere, hospitable citizens, and wide range of outdoor activities. One of the qualifications where student enrollment in the nation is rising quickly is PG Diploma. In New Zealand, postgraduate diplomas are intended for graduates and may usually be finished throughout one academic year of full-time study. Several postgraduate degrees serve as the foundational year for master's degrees. In order to qualify for a Post Graduate Diploma program in New Zealand, you must have at least a Bachelor's degree. The majority of postgraduate certifications and diplomas are highly specialized professional credentials that often call for prior degrees in the subject or a closely related field of study.
Everyone wishes to have a successful career launch or to advance a current career through courses leading to important certificates or certifications. These career-focused courses could boost your profile further if they are undertaken on a worldwide scale. To do this, you must first determine how long you could take a career hiatus. You must make certain you have at least a full academic year just to devote to your studies because New Zealand VISAs are frequently not issued for stays of less than a year. You'll be relieved to learn that these courses have affordable tuition, which is great if you're just starting out. The cost varies according to the New Zealand colleges or course options.

The universities' PDF-based fee breakdown is straightforward and easy to grasp. Even more amazing, there were funding alternatives available for the outstanding short-term courses offered in New Zealand to overseas students. The international assistance and development program was set up by the government of New Zealand with the aim of offering formal support to aspirants from underdeveloped nations. Most of the training courses funded by the Global Aid and Development Program's scholarships are one-year programs in New Zealand. This comprises a graduate certificate and degree programs, as well as training certificate courses, internship, or professional experience courses.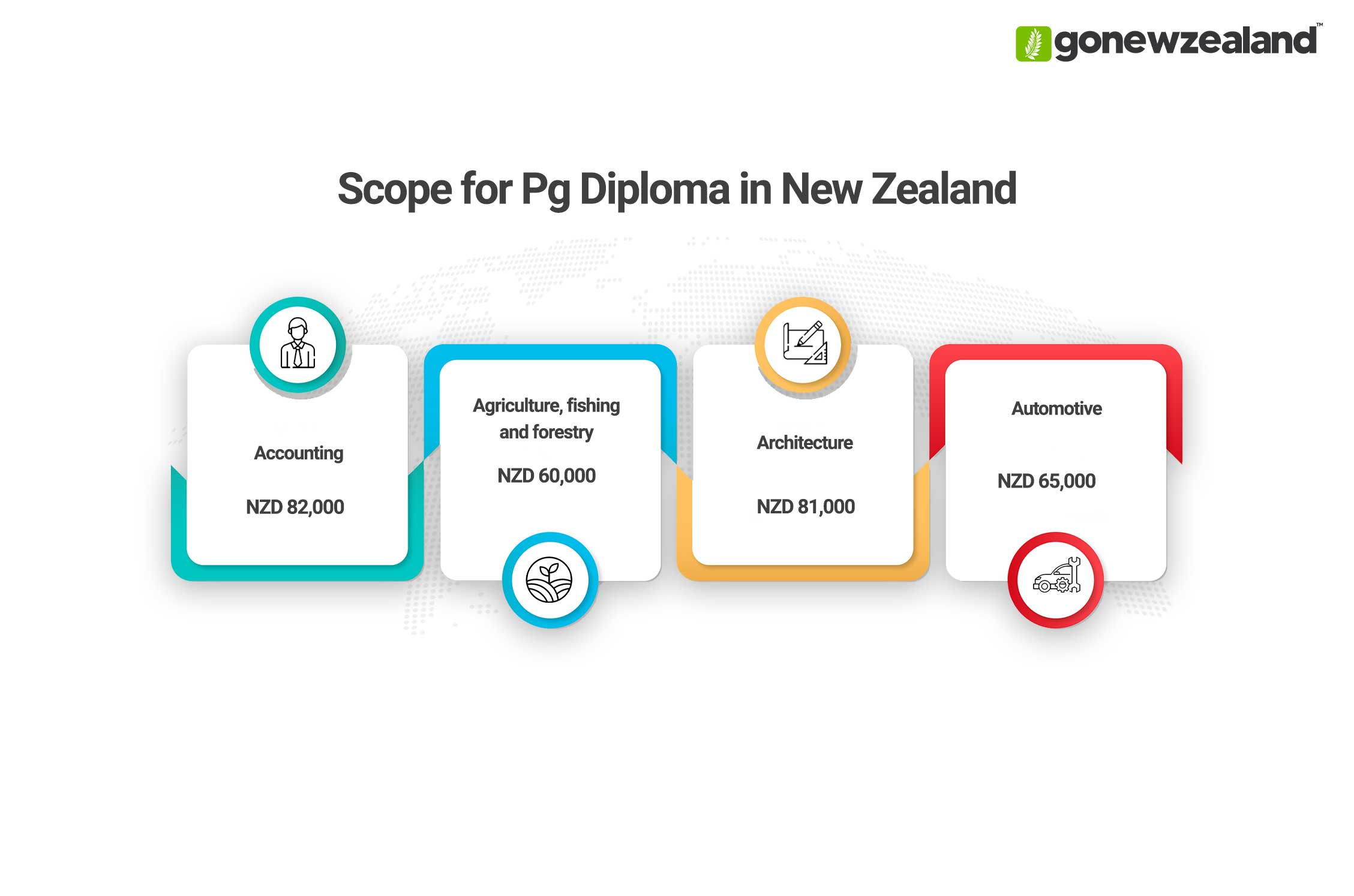 Peer-to-peer learning, which involves appropriate interaction between students with various backgrounds and extremely successful business people, is one feature that distinguishes a Postgraduate diploma in New Zealand from ordinary Masters programs in other nations. A Postgraduate diploma program in New Zealand offers one of the best options for networking and creating fresh business opportunities. You could be among the best, proficient advanced diploma holders and authority in your field of work by enrolling in one of the top Postgraduate diploma programs offered by the leading international universities in New Zealand.

A successful Postgraduate diploma program in New Zealand combines proven business and management skills with a thorough understanding of management tasks in the selected industry to attain the best career prospects after a Postgraduate Diploma in New Zealand. You would be able to comprehend the procedure if you decide to enroll in a Postgraduate diploma program in New Zealand. For graduate students who want to hone and expand their expertise in a particular sector, further study is a fantastic alternative. As a result of your education, you might get involved in cutting-edge research initiatives that profoundly alter how we perceive the world, alongside securing splendid job opportunities in New Zealand after postgraduate diploma courses.

Contact our expert consultants at GoNewZealand to learn more about the scope of a Postgraduate Diploma in New Zealand. Our experienced consultants can be your guide in helping you choose your desired career path.